Posted July 10, 2013
1-ON-1 SPANISH ON SKYPE from SPAIN
For professional people or University Students, all over from Spain, in half-hour sessions, from twice a week from the comfort of your home. A 25+ years Experienced Qualified teacher. Try it on!! Business and goal-oriented. AUGUST & SEPTEMBER SPECIAL!! SAME TEACHER all the time, and you can keep changing dates and hours… (100% Flexitime) Checkout in www.englishtutors.es WhatsApp: +34636899025
For Sale:  
The Apparition of Our Lady at Knock. On a dreary, rain-soaked August night, during a very sad century in Ireland's history, the Holy Mother of God came to comfort the Irish People. Her visit on August 21, 1879 has been depicted in a reverential painting by Philadelphia artist Jim Dowling, and full-color prints are now available. To view the painting, just click here. Prints are matted 11″ X 14″, ready for framing. Included with each print is a 16-page booklet describing the full story of Mary's visit, and also includes pictures of Knock at the time of the Apparition, with quotations from eye-witnesses. If you give gifts on St. Patrick's Day, this can be a very special one. Prints can be ordered through our web site and mailed to your home. The cost per mailed print is $30 each. However … if you live near St. Martin of Tours Parish at Oxford Circle in Northeast Philadelphia, you can pick up prints at our studio and save $10 off the price of each print you buy. To order, please contact us first by email at jimdow35@aol.com. Orders to be mailed must be received by March 1, 2016. Pick-up orders are available through March 16. To see the Knock painting … and many other paintings about things Irish, please visit our web site.
The Perfect Christmas Gift! The Official Papal Music Keepsake: Sound the Bell Ad Text: Use Code: CatholicPhilly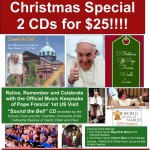 Cemetery Lots
2 Double Depth Gravesites. Westminster Cemetery, Bartram Section, Belmont Avenue, Bala Cywnyd. Call 856-981-7540
For Sale
Trailer Park model home. Kropf 38×12. 2 BR., loft, Fla. rm.,deck, screened porch, plus 2 sofa beds, sleeps 8-10. Resort CC Seasonal Park, Ocean View, NJ. Completely furnished, outdoor furniture included. Call 215-964-2683.
New Catholic music from California's Wine Country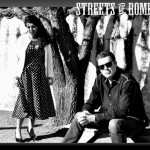 STREETS OF ROME is a singer-songwriter band from Northern California creating original faith-songs about life, faith, love, and hope. 20 original songs on iTunes, Spotify, Amazon, AppleMusic and other streaming music sites. Visit www.StreetsOfRomeBand.com