Posted January 7, 2016
Pope Francis has introduced a new twist on an old practice of prayer. Since the 19th century popes have asked the Apostleship of Prayer to convey papal prayer intentions each month and encourage all people to join in daily prayer.
Now, in addition to the text prayers, CatholicPhilly.com offers a monthly video of Pope Francis' prayer intentions. Watch this month's video here, in Italian with English subtitles, and pray the prayer intentions below.
January 2016
Universal Intention: Interreligious Dialogue
That sincere dialogue among men and women of different faiths may produce the fruits of peace and justice.
Evangelization Intention: Christian Unity
That by means of dialogue and fraternal charity and with the grace of the Holy Spirit, Christians may overcome divisions.
***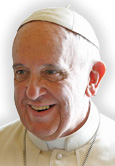 CatholicPhilly.com invites you to join Christians worldwide to pray with a reflection and Scripture citation on the website of the Apostleship of Prayer. The prayer network was founded in 1844 to encourage Christians to make a daily offering of themselves to the Lord for the coming of God's Kingdom and for the pope's monthly intentions.
"Lord Jesus, who has made us living members of your body, keep us deeply united to yourself.  Help us overcome our conflicts, our divisions, and our self-seeking; and let us remember that unity is always better than conflict. Help us to be united to one another by one force, by the power of love which the Holy Spirit pours into our hearts. Amen."
— From Pope Francis' homily of Jan. 25, 2014