By Lou Baldwin • Posted October 14, 2016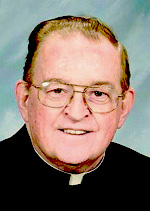 Msgr. Anthony W. McGuire, 86, pastor emeritus of Maternity B.V.M. Parish in Philadelphia, died Oct. 9. He was also a former pastor of St. Titus Parish in Norristown and former rector of Malvern Retreat House.
Born in Philadelphia, the son of the late Edward and the late Ellen (Love) Maguire, he attended Holy Cross School and Roman Catholic High School before entering St. Charles Borromeo Seminary.
At the seminary "He was a great athlete and could play basketball with the best," recalls Msgr. Francis Schmidt, a classmate. "He was a happy person and had tremendous devotion to the Blessed Sacrament."
This devotion continued through his career and Msgr. Schmidt recalls the very large annual Forty Hours devotions Msgr. Maguire would conduct for many years.
Father John Nevins, who was also a classmate, remembers that sports prowess when it was manifest through a baseball throwing completion.
"A few seminarians threw it 300-320 years in the air, his was about 370 yards," he said.
Msgr. McGuire was ordained May 11, 1957 by Archbishop John F. O'Hara at the Cathedral of St. Peter and Paul, and his first assignment was as parochial vicar at St. Kieran Parish, Heckscherville. This was followed by St. Mary, St. Clair; St. Mary of the Assumption, Phoenixville and Bishop Shanahan High School, Downingtown, and Rector of Malvern Retreat House 1971-1981.
At Malvern he oversaw the expansion of facilities, the reinstitution of weekday retreats and the introduction of family retreats.
In 1981 he was named pastor of St. Titus Parish and in 1990 pastor of Maternity B.V. M. in Philadelphia, where he served until he was named pastor emeritus in 2003. During his pastorship the parish pastoral council was formed and a number of programs begun as well as the revitalization of parish buildings.
Father Thomas Sodano, who was a parochial vicar for seven years with Msgr. McGuire at Maternity, remembers, "We always focused on families. He made sure we visited the sick and the nursing homes. He was generous to people with needs, often helping them secretly.
"He made sure the liturgies were up-to-date and always brought in good speakers for the Forty Hours. We had a nice house."
Art Williams, the parish plant supervisor at Maternity, was hired by Msgr. McGuire in 1994 and has nothing but good memories of his former pastor.
"He was a great man and did a lot for the school," he said. "He did a lot of renovation bringing things up to standards. He was very devoted to the Blessed Virgin and would walk the streets saying his rosary every day. After he left we kept in touch. He was one of the good guys."
There will be a viewing for Msgr. McGuire at Maternity B.V.M. Church tonight, Oct. 14, beginning 5:15 p.m. and followed by a 7 p.m. parish Mass.
There will be another viewing beginning at 9 a.m. on Saturday, Oct.15 followed by an 11 a.m. funeral Mass with Bishop Timothy C. Senior as the principal celebrant. Concelebrants will include Msgr. Schmidt, Msgr. Daniel Sullivan, Father Paul Quinter and Father Sodano, who will be the homilist.
Msgr. McGuire is survived by his sisters, Bridget E. Speck, Sister Mary Carmel, S.S.J., and Edna Bennis, and many nieces and nephews.
Interment will be at Holy Sepulchre Cemetery, Philadelphia.
Win free tickets, help support CatholicPhilly.com
CatholicPhilly.com often partners with our region's top cultural venues. During this two-week period, you can benefit by our association with The Franklin Institute in Philadelphia.
Make a donation of any amount during this period and you will receive two general admission tickets to Philadelphia's premier educational museum -- that's a $60 value.
Use our secure credit card form by clicking the link below. That will enable us to contact you so we can send the tickets, which are valid to September 2018.
Your donation helps us to provide high-quality coverage of the local Catholic communities we primarily serve, while also distributing national and world news of interest to Catholics, plus the orthodox teachings of the Catholic faith. Your gift gift of $40, $50, $100, or more will strengthen the fabric of our entire Catholic community.
Make your donation by credit card here: