By Brian Olszewski • Catholic News Service • Posted April 11, 2017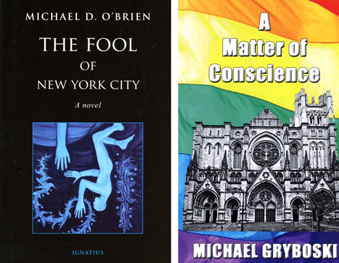 "The Fool of New York City"
by Michael D. O'Brien.
Ignatius Press (San Francisco, 2016).
279pp., $21.95.
"A Matter of Conscience"
by Michael Gryboski.
Inknbeans Press (Murrieta, California, 2016).
301pp., $14.99.
At the end of the first chapter of "The Fool of New York City," readers might be wondering, "What exactly am I reading?" because they have met a homeless man who on a cold night is rescued from an abandoned building in Hell's Kitchen by a giant — nearly 8 feet tall, a former college basketball player who wears size 18 Nike facsimiles and whose "job" is helping people.
The rescued man does not remember his name or anything about his life, but by the end of the chapter he tells the giant, "My name is Francisco de Goya."
Those who continue reading will embark on a story of love, friendship and adventure. It involves defeat and triumph, death and resurrection as the 20-something "de Goya" rediscovers — with the help of the giant, Billy Revere — who he really is.
This is a story about love lived, not preached, and about love lost and found. This is not a sappy romance but rather a tale of a search for answers about life and the meaning of events that have occurred in that life. The story blends the poignant with the humorous — the latter often related to Billy's size.
As "de Goya" begins to trust Billy, and to realize his savior has the confused man's best interests at heart, he comes to a realization: "I am lost in a strange land, peopled with creatures I have never seen before. There are giants in the world, but now I know that some of them are good."
O'Brien rewards readers with an enjoyable sojourn through this "strange land" with "de Goya," Billy and the diverse cast of characters who come in and out of their lives. His is a well-crafted adventure worth reading.
In developing and writing "A Matter of Conscience," Gryboski would have done well to examine the work of the late Father Andrew Greeley and the late William X. Kienzle for examples of how to write a church-themed story that will engage readers.
If he had done so, "A Matter of Conscience" might not be the volume of unrealized potential it is. The story — Father Thomas More, a priest considered a candidate for the episcopacy, terminates a lifelong friendship with a governor and is tried in a court of law for upholding marriage as a sacred union between a man and a woman — is timely. But as told by Gryboski, it unfolds too hastily with characters inadequately developed and with disjointed storylines that knot rather than converge.
The dialogue is clumsy, some occurrences unrealistic, e.g., a jury deciding the outcome of a case without leaving the courtroom to deliberate, and lack of knowledge regarding church and church terminology, e.g., constant reference to the priest's Roman collar as a "dog collar." Together, they beg for a massive edit or a total rewrite. Either should have taken place before this book was published.
***
Olszewski has written for and edited diocesan publications for more than 40 years.
Win free tickets, help support CatholicPhilly.com
CatholicPhilly.com often partners with our region's top cultural venues. During this two-week period, you can benefit by our association with The Franklin Institute in Philadelphia.
Make a donation of any amount during this period and you will receive two general admission tickets to Philadelphia's premier educational museum -- that's a $60 value.
Use our secure credit card form by clicking the link below. That will enable us to contact you so we can send the tickets, which are valid to September 2018.
Your donation helps us to provide high-quality coverage of the local Catholic communities we primarily serve, while also distributing national and world news of interest to Catholics, plus the orthodox teachings of the Catholic faith. Your gift gift of $40, $50, $100, or more will strengthen the fabric of our entire Catholic community.
Make your donation by credit card here: