By Mary Beth Molloy • Posted June 16, 2017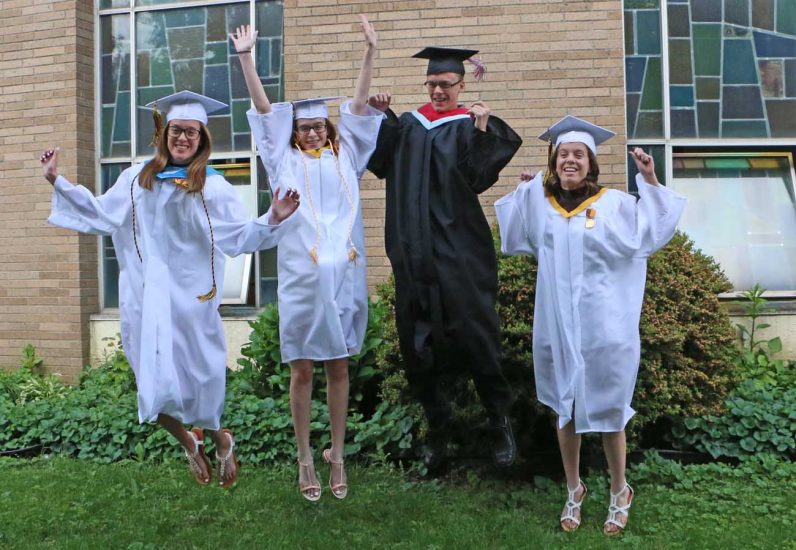 For most parents of Catholic school children, scrimping, saving and waiting for tax refund checks just to pay tuition is a way of life.
And when you have four children — quadruplets, no less — those sacrifices add up. But for parents Maureen and Richard Lipscomb, the reward has been well worth the effort.
After 13 years of Catholic education, all four of their children — Elizabeth, Alexandra, Sarah and Richard — are now preparing to attend Catholic colleges.
The "quads," as they're known among family and friends, studied at St. Matthew Parish School in Mayfair. Then the girls went on to all-girls' St. Hubert High School and Richard on to all-boys' Father Judge High School, both in the Northeast section of Philadelphia.
In September, the four graduates will enter Immaculata, Holy Family, Neumann and Cabrini universities, all in the Philadelphia area.
The young adults share a deep gratitude for their parents' commitment to Catholic education. They're well aware that many times their parents did without to enable their children to attend school.
"When I was younger, I didn't realize the sacrifices they made for us," Alexandra admitted. "As I got older, I came to realize just how much they gave up for us to attend Catholic school. I will forever be grateful for the sacrifices they made."
"I can't imagine how much it costs to send four kids to Catholic school for 13 years," Richard said. "For them to give up their time and money for us to get a good education at a St. Matthew and Father Judge means a lot to me. I can't thank them enough."
Elizabeth, who plans to study early childhood education at Immaculata University, chose the Catholic college "because of the welcoming environment, shared faith and overall atmosphere of Catholic school. I've enjoyed my 13 years of Catholic education so much that I want to experience it all over again in college."
Sarah is looking forward to spiritual and social fellowship at Cabrini University. "I like that many of the students attending have the same faith as I do, so we can celebrate Catholic holidays as a community and participate in service activities, such as campus ministry and mission trips," she said. "There is also a chapel on campus, which is convenient for attending Mass on Sundays."
For Richard, who will enter Neumann University, a Catholic college was not a priority. However, he quickly realized that Neumann was an excellent fit for him. "It just felt comfortable since I was in a Catholic school my whole life."
Alexandra regards her entrance to Holy Family University as the logical next step in her intellectual and spiritual development.
"After going to Catholic school my whole life, I decided I wanted to continue on this journey through my faith."
Win free tickets, help support CatholicPhilly.com
CatholicPhilly.com often partners with our region's top cultural venues. During this two-week period, you can benefit by our association with The Franklin Institute in Philadelphia.
Make a donation of any amount during this period and you will receive two general admission tickets to Philadelphia's premier educational museum -- that's a $60 value.
Use our secure credit card form by clicking the link below. That will enable us to contact you so we can send the tickets, which are valid to September 2018.
Your donation helps us to provide high-quality coverage of the local Catholic communities we primarily serve, while also distributing national and world news of interest to Catholics, plus the orthodox teachings of the Catholic faith. Your gift gift of $40, $50, $100, or more will strengthen the fabric of our entire Catholic community.
Make your donation by credit card here: