By Matthew Gambino • Posted September 10, 2015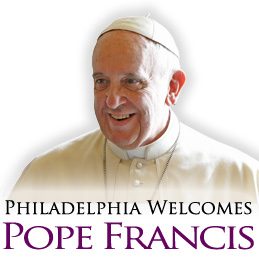 The 10,000 tickets for the Mass that Pope Francis will celebrate Sept. 27 on the Benjamin Franklin Parkway were snatched up just 30 seconds after they became available Wednesday night, Sept. 9.
That was even quicker than the two minutes it took to exhaust the 10,000 tickets for the Festival of Families and 10,000 for the pope's address at Independence Hall, both on Sept. 26.
People who obtained tickets will need to pass through security checkpoints to enter the reserved zone on the parkway, where their ticket's bar code will be scanned.
For participants without a ticket, unreserved areas of the parkway will still offer views toward the Philadelphia Museum of Art where the Mass will be celebrated, at Eakins Oval.
Thirty-one Jumbotron screens along the parkway provide live coverage of the Mass and all other events during the Sept. 26-27 events for people near the altar and farther back. The reserved section runs along the parkway from roughly 23rd Street to 20th Street; all the blocks east of 20th are unreserved.
Besides televised coverage, Pope Francis will get a close-up glimpse of almost everyone attending when his motorcade passes slowly along the parkway on both sides, from the Art Museum to City Hall and back before Saturday's Festival of Families and on a shorter route, to be determined, prior to the Mass on Sunday.
Win free tickets, help support CatholicPhilly.com
CatholicPhilly.com often partners with our region's top cultural venues. During this two-week period, you can benefit by our association with The Franklin Institute in Philadelphia.
Make a donation of any amount during this period and you will receive two general admission tickets to Philadelphia's premier educational museum -- that's a $60 value.
Use our secure credit card form by clicking the link below. That will enable us to contact you so we can send the tickets, which are valid to September 2018.
Your donation helps us to provide high-quality coverage of the local Catholic communities we primarily serve, while also distributing national and world news of interest to Catholics, plus the orthodox teachings of the Catholic faith. Your gift gift of $40, $50, $100, or more will strengthen the fabric of our entire Catholic community.
Make your donation by credit card here: