Posted December 4, 2015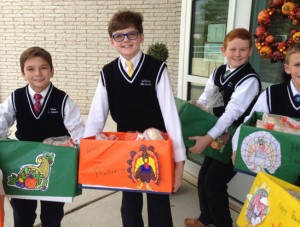 Fifth grade students from SS. Colman-John Neumann School (SCJN) in Bryn Mawr recently provided Thanksgiving meals for 25 needy families in the Philadelphia area, working ahead of the holiday to collect turkeys, food items and money for its November service project.
The students organized the food, decorated the boxes and loaded 25 boxes and 26 turkeys into a van headed for St. Francis Inn which serves the poor and homeless in Philadelphia.
This donation is the largest that the Inn receives on an annual basis, and SCJN has participated in this service project for more than 20 years.