Posted January 7, 2016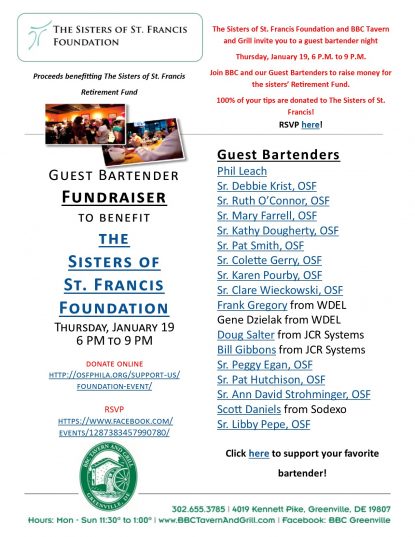 Event Name
Sisters of St. Francis Guest Bartender Night
Event Location
BBC Tavern and Grill
Start Date and Time:
1/19/17 6pm
End Date and Time
1/19/17 9pm
Event Description
Join us Thursday, January 19, 2017 at BBC Tavern and Grill, Greenville, Delaware.
Come out to support your favorite bartender! The Sisters of St.
Francis Foundation will host a Guest Bartender Night at BBC Tavern and Grill in Greenville, Delaware on January 19, 2017 from 6-9pm. 100% of tips collected during the evening will benefit the Sisters of St.
Francis Retirement Fund.
Can't make it out to the event but want to support the sisters?
Donations can be made via check or online through our secure online donation form! Simply write your favorite bartender's name in the memo line of your check or select their name on the online donation form. The bartending team to raise the most money will win a fabulous prize.
This evening will prove to be fun and entertaining. Win a basket of cheer or be a winner of our 50/50 drawing!
Donations can be made at