Posted June 9, 2016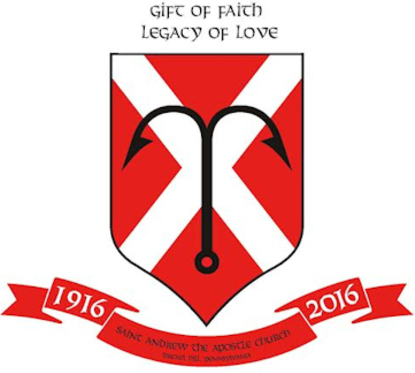 St. Andrew the Apostle Parish in Drexel Hill will mark the closing of its centennial year on Saturday, June 25 when Archbishop Charles Chaput will be the main celebrant at the 5 p.m. Vigil Mass.
Current and former parishioners are invited to the Mass in the church located at School Lane and Foss Avenue in Drexel Hill and afterward for a celebration at Springfield Country Club.
The parish was founded in July 1916 when Archbishop Edmond Prendergast sent Father Joseph McShain to Drexel Hill to find suitable land to build a church. From its humble beginnings in a home on Burmont Road, St. Andrew Parish grew from 55 founding members to nearly 5,000 today.
At a time in history when many parishes and schools are consolidating or closing their doors, St. Andrew continues to grow. Rising enrollment in the parish school and a growing number of ministries and community outreach programs has prompted the parish to embrace a capital campaign.
It will provide a much-needed gymnasium for children and a parish center for the community.
Win free tickets, help support CatholicPhilly.com
CatholicPhilly.com often partners with our region's top cultural venues. During this two-week period, you can benefit by our association with The Franklin Institute in Philadelphia.
Make a donation of any amount during this period and you will receive two general admission tickets to Philadelphia's premier educational museum -- that's a $60 value.
Use our secure credit card form by clicking the link below. That will enable us to contact you so we can send the tickets, which are valid to September 2018.
Your donation helps us to provide high-quality coverage of the local Catholic communities we primarily serve, while also distributing national and world news of interest to Catholics, plus the orthodox teachings of the Catholic faith. Your gift gift of $40, $50, $100, or more will strengthen the fabric of our entire Catholic community.
Make your donation by credit card here: