By Kristen Kraunelis • Posted August 5, 2016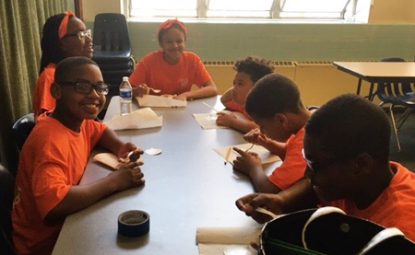 Be kind. Be respectful. Listen. Pay attention. Be strong. Help others. Believe in yourself. Never give up.
These words of wisdom came from "the mouths of babes" — in this case, 11-year-old girls and boys from the Olney neighborhood of North Philadelphia, asked for their advice to others on how to achieve success.
These 18 children are exceptional in every sense of the word, with each one having received some type of academic award when the school year ended.
What do these kids have in common that has made them so successful? Part of the answer is that all attended the Out-of-School-Time (OST) Program run by archdiocesan Catholic Social Services at St. Helena/Incarnation parish school.
Assistant Director Vania Calderon was thrilled with the fabulous news of their academic success, gushing like a proud parent: "Every student in our fourth and fifth grade received an academic award! For some of them this is the first time they have been recognized academically. After a year of STEM and literacy activities, we have seen the fruit of our labor."
"STEM" — Science, Technology, Engineering and Math — is a major component of the afterschool and summer programming offered by all of the dozen OST programs run by CSS. Students loved robotics, which they explored through a collaboration with La Salle College High School. Other students mentioned how much they enjoyed the science experiments performed throughout the year, especially the one that resulted in ice cream!
One young girl called the OST environment "very good for learning" as it highlights the OST philosophy that learning environments are more about who we are surrounded by than what or where those surroundings are. Many students say what they like best about OST are the staff and their friends.
Program Director Marjorie McMahon always has a twinkle in her eyes when talking about her OST at St. Helena/Incarnation. Her enthusiasm and genuine love for the children are an essential ingredient for helping each student to do their best, knowing that they are surrounded by people who care and can motivate them to pursue academic success.
The results are clear to see: making learning fun inspires kids to learn more, and learning is always fun at the OST programs!
The secret to success is not complicated, and these kids get it. We can all learn from them: Be kind. Be respectful. Listen. Pay attention. Be strong. Help others. Believe in yourself. Never give up.
***
Kristen Kraunelis is development and community relations manager for Catholic Social Services of the Archdiocese of Philadelphia.