Posted November 11, 2016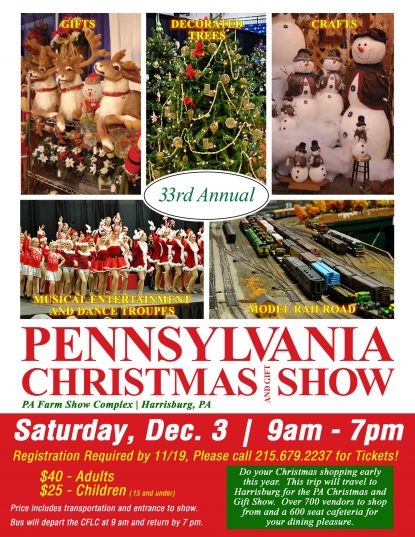 Event Name
Pennsylvania Christmas & Gift Show
Event Location
Harrisburg, Pa
Start Date and Time:
December 3, 2016 9:00 am
End Date and Time
December 3, 2016 5:00 pm
Event Description
We will depart from the St. Philip Neri Catholic Family Life Center in
East Greenville, Pa to travel to the Farm Show Arena in Harrisburg, Pa
where over 500 vendors await us. Get into the Christmas spirit by
enjoying musical entertainment, dance troupes, decorated trees and a
huge model railroad display. $40 for adults and $25 for children (age
15 and under) that includes transportation and admission. For
registration please call 215.679.2237 or visit
catholicfamilylifecenter.com.
Ticket URL
catholicfamilylifecenter.com
Win free tickets, help support CatholicPhilly.com
CatholicPhilly.com often partners with our region's top cultural venues. During this two-week period, you can benefit by our association with The Franklin Institute in Philadelphia.
Make a donation of any amount during this period and you will receive two general admission tickets to Philadelphia's premier educational museum -- that's a $60 value.
Use our secure credit card form by clicking the link below. That will enable us to contact you so we can send the tickets, which are valid to September 2018.
Your donation helps us to provide high-quality coverage of the local Catholic communities we primarily serve, while also distributing national and world news of interest to Catholics, plus the orthodox teachings of the Catholic faith. Your gift gift of $40, $50, $100, or more will strengthen the fabric of our entire Catholic community.
Make your donation by credit card here: