By Michelle Francl-Donnay • Posted December 30, 2016
"…his mother kept all these things in her heart. And Jesus advanced in wisdom and age and favor before God and man." Luke 2:51b-52
The day after Christmas, Christopher Howse, who writes on religion for Britain's "The Telegraph," tweeted a picture of his favorite Nativity scene — Mary in bed reading a book while Joseph cradles a sleeping Jesus in his arms — taken from a 15th century French Book of Hours. Thinking of the Gospel for the Mass on Christmas Day, the prologue to St. John's Gospel, I retweeted the image with the comment, "We take our Christmas cues from John's Gospel — in the beginning was the Word. Books, books, everywhere…"
It's true, we all got books this Christmas. History, fiction, science-fiction and fantasy, math. Once we'd opened gifts on Christmas afternoon, everyone settled down with a new book. My mother loved to read, so it's no surprise that her children or grandchildren share her passion for the written word.
But the line my mother loved best from all those books was from Luke's Gospel, where it appears not once, but twice, in the second chapter: "Mary treasured all these things, pondering them in her heart."
As I listened to the Gospel on Christmas Eve, in which this line appears, I thought of my mother and her favorite Scripture verse. What do I treasure? What do I hold close in my heart, turning it round and round? Like Mary, joys and sorrows both. Family. God, surely.
But in the depths of my heart? Every Friday, in the psalms set out for Morning Prayer, the Church prays this verse, "Indeed you love truth in the heart, then in the secret of my heart, teach me wisdom."
Christmas brings me face to face with God revealed, God who has arrived, God who had pitched his tent among us. It nudges me to look outside myself, to notice God loose in the world, God in the everyday — in line at the post office, knocking on my office door and huddling in the rain on the corner of Lancaster and Morris, waiting for the bus.
But Luke's portrait of Mary reminds me that God-with-us is also God-within-us. That as much as we are called to kneel in adoration at the manger, or to trumpet "Joy to the world!" we are also called to quietly cradle God in the secret recesses of our hearts, to open the book in which God resides, to relish it, and ponder the Word in our hearts.
It is a reminder that we are all called to contemplative prayer, to sit quietly with a few or no words, to rest in God.
So over these next few days I'm sneaking out each night for a short walk amid the beautiful lights in my neighborhood, taking some quiet time to hold God-within, to ponder the words of the psalm, "teach me wisdom," that in this new year I might find favor before God.
***
To contemplate: The image of the Holy Family from the 15th century Besancon Book of Hours. For me, the cows evoke the monks who used the image of cattle chewing on their cud to suggest how to ponder a verse from Scripture in your heart.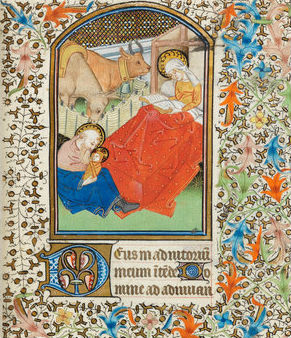 To listen: Estonian composer Arvo Pärt's still and gentle setting of the Nunc Dimmitis, Simeon's prayer on holding Jesus in his arms.

To pray: Closing prayer from Morning Prayer in the Octave of Christmas:
Almighty God and Father of light,
a child is born for us and a son is given to us.
Your eternal Word leaped down from heaven
in the silent watches of the night,
and now your Church is filled with wonder
at the nearness of her God.
Open our hearts to receive his life
and increase our vision with the rising of dawn,
that our lives may be filled with his glory and his peace,
who lives and reigns for ever and ever. Amen.
***
Michelle Francl-Donnay is a parishioner at Our Mother of Good Counsel in Bryn Mawr, a professor of chemistry at Bryn Mawr College and an adjunct scholar at the Vatican Observatory.
Win free tickets, help support CatholicPhilly.com
CatholicPhilly.com often partners with our region's top cultural venues. During this two-week period, you can benefit by our association with The Franklin Institute in Philadelphia.
Make a donation of any amount during this period and you will receive two general admission tickets to Philadelphia's premier educational museum -- that's a $60 value.
Use our secure credit card form by clicking the link below. That will enable us to contact you so we can send the tickets, which are valid to September 2018.
Your donation helps us to provide high-quality coverage of the local Catholic communities we primarily serve, while also distributing national and world news of interest to Catholics, plus the orthodox teachings of the Catholic faith. Your gift gift of $40, $50, $100, or more will strengthen the fabric of our entire Catholic community.
Make your donation by credit card here: