Posted February 3, 2017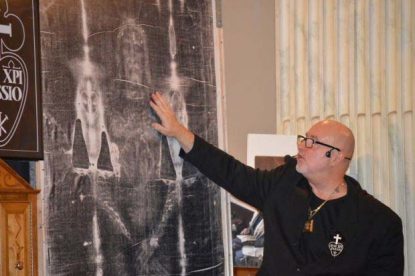 Event Name
Discovering Jesus in His Holy Shroud
Event Location
St. Albert the Great Church, 212 Welsh Rd., Huntingdon Valley, PA
19006
Start Date and Time:
Friday, March 10, 2017, from 7:00 – 9:00 PM
End Date and Time
Event Description
The Holy Shroud of Turin – "Discovering Jesus in His Holy Shroud"
An evening like no other! Donald Nohs, known as the "Apostle of the
Holy Shroud" and General Director of the Confraternity of the
Passion International, travels world-wide conducting enlightening and
interactive presentations on the Shroud of Turin. Donald uses an
authentic life-size replica of the Shroud, a custom handmade replica
of the crown of thorns, and implements of Christ's passion to walk us
through the Passion narrative like never before. He not only delves
into the history of the Shroud and what it reveals about the Passion,
but also its little known connection to the celebration of the
Eucharist. A relic of the Holy Shroud of Turin and a miraculous image
of the Holy Face of Jesus that was
documented to have shed blood will be available for veneration. Donald
will be joined by recording artist Marty Rotella and opera sensation
Christine Cullen, as he helps us journey through the passion event
using the Shroud as our guide.
SAVE THE DATE! Friday, March 10, 2017, from 7 – 9 PM in St. Albert
the Great Church, 212 Welsh Road, Huntingdon Valley, PA. No
registration is required. A free will offering to benefit the work of
the Confraternity of the Passion International will be taken up during
the event. Don't miss it!