Posted February 16, 2017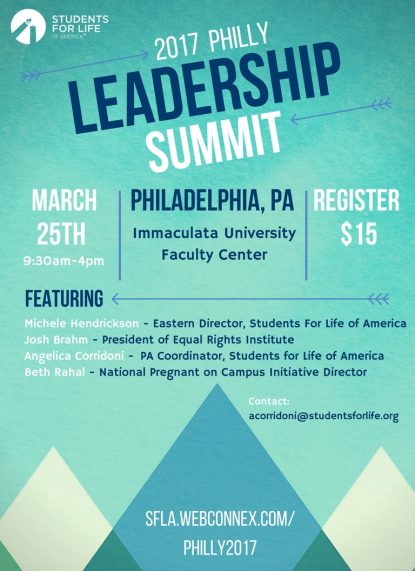 Event Name
Students for Life of America Philadelphia Leadership Summit
Event Location
Immaculata University 1145 W King Rd, Immaculata, PA 19345
Start Date and Time:
March 25, 2017 at 9:30 am
End Date and Time
March 25, 2017 at 4:00 pm
Event Description
Students for Life of America will be hosting an event that will allow students to hear from inspiring pro-life activists that are changing the culture on campuses across the country! With personalized, hands-on training and preparation, the SFLA Leadership Summit will leave you confident in your goals and grow as leaders in the pro-life movement! Plus, you get to meet and network with all the other amazing pro-life student activists in your region!
Ticket URL (optional)