Posted March 21, 2017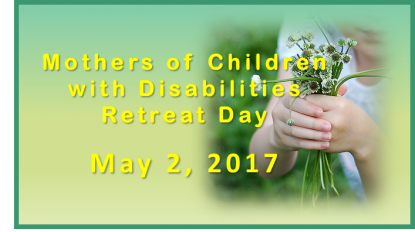 Event Name
Mothers of Children with Disabilities Retreat Day
Event Location
Malvern Retreat House, McShain-Horstmann Family Life Center 315 S.
Warren Ave. Malvern, PA 19355
Start Date and Time:
May 2, 2017 – 9:30 am to 2:00 pm
End Date and Time
Event Description
This special day is for mothers who are raising children with disabilities and also those who have adult children with disabilities.
Grandmothers are welcome to attend also. The retreat is sponsored by the Archdiocese of Philadelphia, Office for Persons with Disabilities.
The day includes:
Time for quiet and time to connect with other Moms Mass and opportunity for confession Inspirational Speaker Continental breakfast and delicious lunch
This year's theme is: Forgiveness: The name of Love in a Wounded World
Retreat Directors: Sister J. Sheila Galligan, IHM – Professor of Theology at Immaculata University
Father James Olson – Mother of Divine Grace/St. George Parishes, Philadelphia
Cost: $35/per person
For flyers and more information go to: www.OPDarchphilly.org