By Lou Baldwin • Posted March 1, 2017
A liturgy on Sunday afternoon, Feb. 26 drew several hundred faithful to St. Charles Borromeo Church in Bensalem for prayers that were appropriately bilingual — English and Spanish.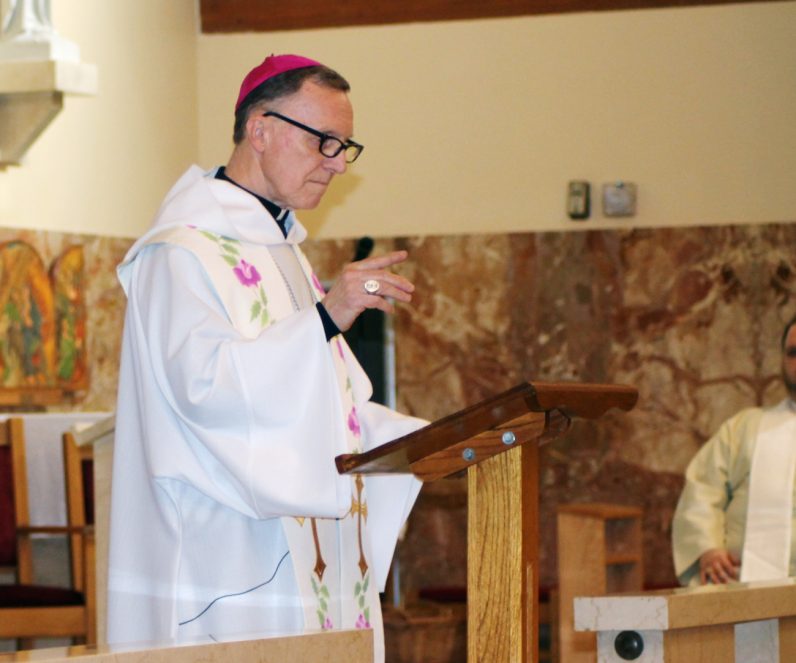 The congregation was a mix of English speakers and Spanish speakers led by the bilingual presider, Auxiliary Bishop Edward Deliman, who doubles as pastor of St. Charles, which has a number of Hispanic parishioners. He is also responsible for outreach to the Hispanic community of the entire Archdiocese of Philadelphia.
An estimated 253,176 Hispanic Catholics were living in the five-county Philadelphia region in 2015, according to the latest data from the archdiocese. U.S. census data indicates a total of 348,727 Hispanics here in 2015.
Bishop Deliman's ministry takes on special importance at this time when there is a threat from the federal government to step up enforcement of immigration law through the deportation of immigrants who do not have valid green cards or visas.
In the Bensalem area, "We have had three people taken and there is fear," Bishop Deliman said. "We now see men, women and children afraid to go to the local supermarket, to the local Dunkin Donuts, to school, and even in some cases, to church."
Referring to a Department of Homeland Security memorandum issued Feb. 20, Bishop Deliman said it "eliminates protection for unaccompanied children and for those who are seeking asylum. The United States border with Mexico is becoming a militarized zone."
"I want to be proud of my church for standing up at this frightening moment. It is a time for all of us to stand up for people who are especially vulnerable now."
The readings at the service emphasized the Judeo-Christian tradition of welcoming the stranger, beginning with migratory journeys of Abraham and Moses, and including the flight of the Holy Family to Egypt.
In his invocation Bishop Deliman prayed, "God, no one is stranger to you and no one is far from your loving care. In your kindness watch over migrants, refugees and asylum seekers; those separated from their loved ones and those who have been exiled."
On a secular note he quoted from the seemingly forgotten inscription on the Statue of Liberty: "Give me your tired, your poor, your huddled masses yearning to breathe free. The wretched refuse of your teeming shore. Send these, the homeless, tempest-tost to me. I lift my lamp beside the golden door."
Not all of those in attendance were from the immediate area. For example, Mary Laver of St. Vincent de Paul Parish in Germantown was one of the people who accompanied Bishop Deliman to California the previous week for the World Meeting of Popular Movements.
"I want to be proud of my church for standing up at this frightening moment," she said. "It is a time for all of us to stand up for people who are especially vulnerable now."
Christopher Golden Newsome also attends St. Vincent de Paul.
Because he is African American, he said, "I want to support my brown brothers and sisters who have the same problems we do with just different offices in the legal system."
Among those of Mexican birth present was Alex Santa Maria, who proclaimed a reading at the service. He thought it important to hear what was said and especially the prayers because everybody needs prayer. Among the problems the affected immigrants face, he explained, was the inability to drive because they could not get a driver's license.
"We can't do many things. We can't travel with our families. It is frustrating," he said.
Rodrigues Royes, who is from Honduras, asked for prayers. "We need to pray to God for immigrants," he said. "We have to pray for peace, for communication, for life. Our situation is very hard."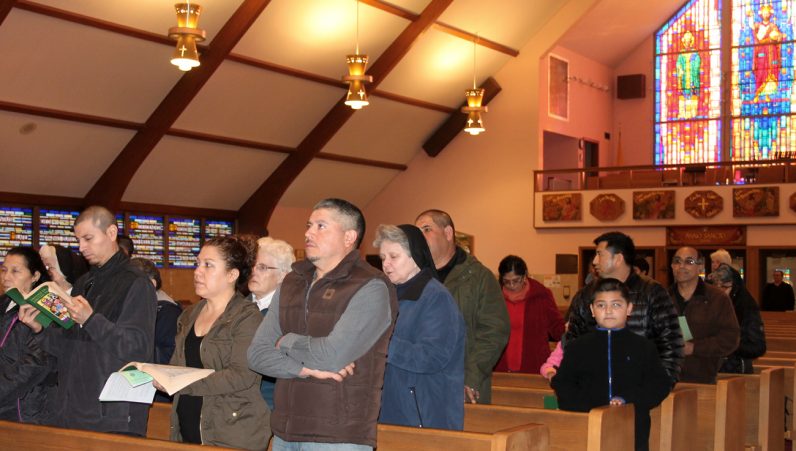 Kathia Arango, the director of the archdiocesan Office for Hispanic Catholics, saw the service as an opportunity for people who are feeling insecure because of immigration issues to see the Church is here and with them. "They can see us as family and as family we can ask God to be merciful to all of the people," she said.
Also on the altar for the service were Fathers Charles Ravert and Eugene Wilson; Deacon Adolfo Crespo, and reader Olga Camales, a native of Puerto Rico.
The Prayer of the Faithful was led by Matt Davis, director of the archdiocesan Office for Pastoral Care for Migrants and Refugees, and his wife Kathy, who is originally from Bolivia.
Win free tickets, help support CatholicPhilly.com
CatholicPhilly.com often partners with our region's top cultural venues. During this two-week period, you can benefit by our association with The Franklin Institute in Philadelphia.
Make a donation of any amount during this period and you will receive two general admission tickets to Philadelphia's premier educational museum -- that's a $60 value.
Use our secure credit card form by clicking the link below. That will enable us to contact you so we can send the tickets, which are valid to September 2018.
Your donation helps us to provide high-quality coverage of the local Catholic communities we primarily serve, while also distributing national and world news of interest to Catholics, plus the orthodox teachings of the Catholic faith. Your gift gift of $40, $50, $100, or more will strengthen the fabric of our entire Catholic community.
Make your donation by credit card here: