Posted April 26, 2017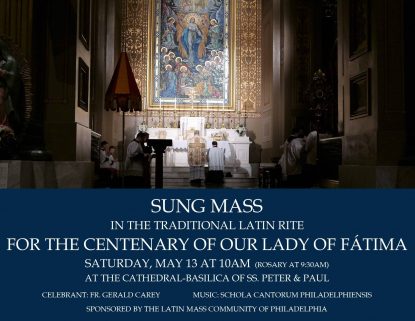 Event Name
High Mass for The Centennial of the Fatima Apparitions
Event Location
Cathedral of Sts. Peter and Paul
Start Date and Time:
Saturday May 13th 930AM
End Date and Time
Saturday May 13th 1130AM
Event Description
The Traditional Latin Mass Community will be having a sung Latin Mass
with full chant Propers at the Cathedral-Basilica (side altar of the
Assumption) on Saturday, May 13 at 10am to commemorate the 100th
anniversary of the apparitions of Our Lady to the Marto children in
Fátima, Portugal.
As confirmed by a decree of the Ecclesia Dei commission in Rome, we'll
be able to use the votive Mass of the Immaculate Heart.
Please also consider arriving 30 minutes early to join in reciting the
holy Rosary.