Posted April 10, 2017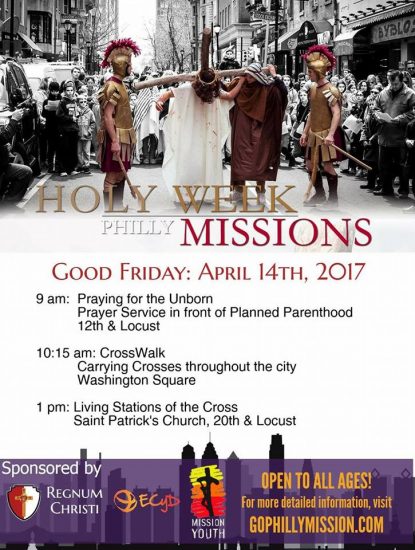 Event Name
Philly Mission Good Friday Service
Event Location
Various
Start Date and Time:
April 14th 9AM
End Date and Time
April 14th 5PM
Event Description
All are encouraged to attend Philly Missions and Legionaries of Christ on their Good Friday outreach in Center City Philadelphia.
The day begins with prayer vigil at 12th and Locust.
A crosswalk where teams will carry a wooden cross, collect intentions from people for the 3PM service at the cathedral.
at 1PM the living stations will begin from St. Patrick's at 20th and Locust and end at the lawn of the cathedral
Ticket URL (optional)
gophillymission.com