Posted April 20, 2017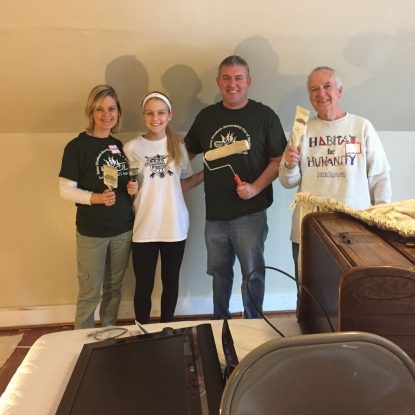 Event Name
Saint Elizabeth Parish Stewardship Day of Service
Event Location
Saint Elizabeth Parish and Community Service Providers in Chester County
Start Date and Time:
April 29, 2017 8:30 AM
End Date and Time
April 29, 2017 12:30 PM
Event Description
Saint Elizabeth Parishioners gather for 7th Stewardship Day of Service to the Community
Saint Elizabeth Parish, in Upper Uwchlan Township, will be holding its seventh Stewardship Day of Service on Saturday, April 29. This year more than 150 parishioners, including adults and children, will provide help to more than 20 community organizations. These volunteers will do spring planting, painting, packing and sorting of donations, cleaning, and much more. The day will begin with Mass at Saint Elizabeth Church at 8:30 a.m. Volunteers will gather for prayer followed by a light breakfast, assignment of location, and distribution of matching T shirts to wear. The day includes some full day and some half day work locations. Sites that will receive volunteer help include The Lord's Pantry, Paradise Farms Camp, Thorncroft Equestrian Center, and West Chester Area Senior Center, along with many others. Genevieve Miceli, Parish Services Director at the parish, said, "Our event tag line is 'We are God's Hands'
and the Stewardship Day of Service is a tangible opportunity to be just that, people acting for God in service to those in need."
Our contact information for this Stewardship Day of Service is:
Genevieve Miceli, Parish Services Director  gmiceli@stelizabethparish.org 610-646-6550 (office) 610-724-6555
(cell)
Diane Hogan, Marketing and Communication for Stewardship Day of Service
610-585-5100 (cell)
Contact information for the sites that are listed in press release can be provided.