Posted May 24, 2017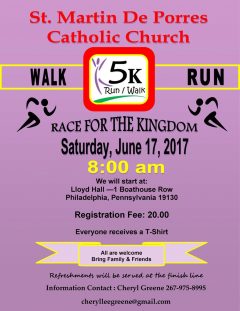 Event Name
"Race For The Kingdom"
Event Location
Llyod Hall / Kelly Drive
Start Date and Time:
Saturday, June 17, 2017, 8 am
End Date and Time
June 17 11am
Event Description
Saint Martin de Porres Parish in North Philadelphia will sponsor a 5K race to support community building and healthy living. Father Stephen Thorne, the pastor will bless the runners and run. All are welcome.