Posted June 19, 2017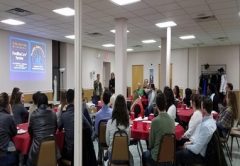 Event Name
First ever Bilingual Road Show in Center City Philadelphia
Event Location
222 N.17 th Street, Philadelphia, PA 19103
Start Date and Time:
July 26 at 7 PM
End Date and Time
July 26 at 9PM
Event Description
To help celebrate NFP week, our FertilityCare Professionals are
traveling to downtown Philadelphia to give their first ever bilinqual
roadshow!
On Wednesday, July 26 at 7 PM both Dr. Delia Larrauri and Dr. Monique
Ruberu will explain the many benefits of the Creighton Model
FertilityCare System and NaProTechnology. The evening presenttion will
be in English and Spanish.
There is a viewing of the film NaPro, A Quiet Revolution followed by
presentations in English and Spanish. This bilingual program will be
held in the auditorium of the Archdiocesan Pastoral Center (first
floor) at 222 N.17 th Street, Philadelphia, PA 19103.
At every NaPro Road Show, FertilityCare Professionals are available to
answer questions regarding women's reproductive health throughout the
lifespan. Q&A is conducted with index cards to ensure anonymity. To
register, click here. For questions, please call Barbara at 215 884
2922.