Posted August 2, 2017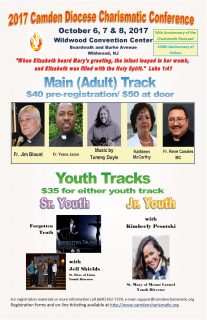 Event Name
Camden Diocese Charismatic Conference
Event Location
Wildwood Convention Center, WIldwood, New Jersey
Start Date and Time:
October 6, 2017 at 5 PM
End Date and Time
October 8, 2017 at 3 PM
Event Description
Come to Wildwood New Jersey for the 29th Annual Camden Diocese Charismatic Conference to be held October 6th through the 8th at the Wildwood Convention Center on the Boardwalk.
The Camden Diocese Charismatic Conference is an awesome weekend of spiritual enlightenment and all our tracks are age appropriate for Adults, High School and Junior Youth.
The theme for this year will be "When Elizabeth heard Mary's greeting, the infant leaped in her womb and Elizabeth was filled with the Holy Spirit." Luke 1:41.
We will also be celebrating the 100th Anniversary of Fatima and the 50th Anniversary of the Charismatic Renewal.
Our Master of Ceremonies will be Father Rene Canales and our guest speakers will be, Father Jim Blount, Father Yvans Jazon and Kathleen McCarthy, with Music by Tommy Doyle.
Come enjoy a weekend filled with prayer, praise, worship, Mass, adoration, the rosary, confession, healing & deliverance through the Graces of God in the Holy Spirit.
Doors open Friday Evening at 5 p.m. and finishes on Sunday afternoon with the completion of the Celebration of Sunday Mass to begin at Noon, Free Admission on Sunday for the Noon Mass.
For more information, visit our website at www.camdencharismatic.org.
or call 609-652-7729 or email support@camdencharismatic.org
Win free tickets, help support CatholicPhilly.com
CatholicPhilly.com often partners with our region's top cultural venues. During this two-week period, you can benefit by our association with The Franklin Institute in Philadelphia.
Make a donation of any amount during this period and you will receive two general admission tickets to Philadelphia's premier educational museum -- that's a $60 value.
Use our secure credit card form by clicking the link below. That will enable us to contact you so we can send the tickets, which are valid to September 2018.
Your donation helps us to provide high-quality coverage of the local Catholic communities we primarily serve, while also distributing national and world news of interest to Catholics, plus the orthodox teachings of the Catholic faith. Your gift gift of $40, $50, $100, or more will strengthen the fabric of our entire Catholic community.
Make your donation by credit card here: