Posted August 21, 2017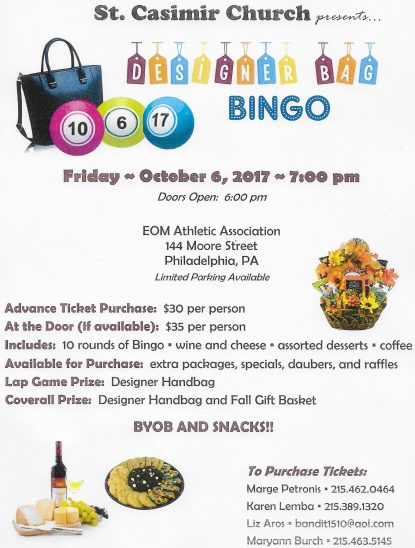 Event Name:
St. Casimir Church presents Designer Bag Bingo
Event Location:
EOM Athletic Association, 144 Moore Street, Philadelphia, PA 19148
Start Date and Time:
Friday, Oct. 6. Doors open at 6 p.m., Bingo starts at 7 p.m.
End Date and Time:
Friday, Oct. 6 to around 11 p.m.
Event Description:
Designer Bag Bingo and Chinese Auction to benefit St. Casimir's Building Fund.
Tickets are $30 in advance, $35 at the door.
Ten rounds of bingo, wine and cheese, assorted desserts, coffee and tea are included.
Lap Game prize: Designer Handbag
Coverall Prize: Designer Handbag and Fall Gift Basket
Participants may bring their own beverage and snacks.
To purchase tickets contact Marge Petronis, 215-462-0464, Karen Lemba, 215-389-1320, Liz Aros, bandit1510@aol.com  or MaryAnn Burch, 215-463-5145.