Posted August 3, 2017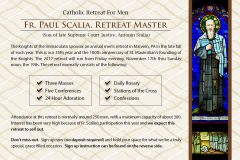 Event Name
The 35th Annual Knights of the Immaculata Retreat for Men with Fr.
Paul Scalia
Event Location
315 Warren Ave 315 S. Warren Avenue Malvern, PA 19355
Start Date and Time:
Friday November 17th 5PM
End Date and Time
Friday November 19th 12PM
Event Description
A traditional retreat for men. All men are welcome. This retreat includes Mass, conferences (talks), Stations of the Cross, private adoration and much more!
It coincide with the 100th anniversary of its founding by St.
Maximilian Kolbe and 35 years at Malvern.
This year's retreat master is Fr. Paul Scalia of the Arlington Diocese and son of the late Supreme Court Justice Antonin Scalia. Fr. Scalia is the author of That Nothing May Be Lost.
Ticket URL (optional)
https://registration.malvernretreat.com/RetreatProcessing/Logon2Page.aspx