Posted August 3, 2017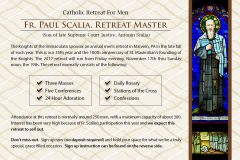 Event Name
The 35th Annual Knights of the Immaculata Retreat for Men with Fr.
Paul Scalia
Event Location
315 Warren Ave 315 S. Warren Avenue Malvern, PA 19355
Start Date and Time:
Friday November 17th 5PM
End Date and Time
Friday November 19th 12PM
Event Description
A traditional retreat for men. All men are welcome. This retreat includes Mass, conferences (talks), Stations of the Cross, private adoration and much more!
It coincide with the 100th anniversary of its founding by St.
Maximilian Kolbe and 35 years at Malvern.
This year's retreat master is Fr. Paul Scalia of the Arlington Diocese and son of the late Supreme Court Justice Antonin Scalia. Fr. Scalia is the author of That Nothing May Be Lost.
Ticket URL (optional)
https://registration.malvernretreat.com/RetreatProcessing/Logon2Page.aspx
Win free tickets, help support CatholicPhilly.com
CatholicPhilly.com often partners with our region's top cultural venues. During this two-week period, you can benefit by our association with The Franklin Institute in Philadelphia.
Make a donation of any amount during this period and you will receive two general admission tickets to Philadelphia's premier educational museum -- that's a $60 value.
Use our secure credit card form by clicking the link below. That will enable us to contact you so we can send the tickets, which are valid to September 2018.
Your donation helps us to provide high-quality coverage of the local Catholic communities we primarily serve, while also distributing national and world news of interest to Catholics, plus the orthodox teachings of the Catholic faith. Your gift gift of $40, $50, $100, or more will strengthen the fabric of our entire Catholic community.
Make your donation by credit card here: