Posted September 11, 2017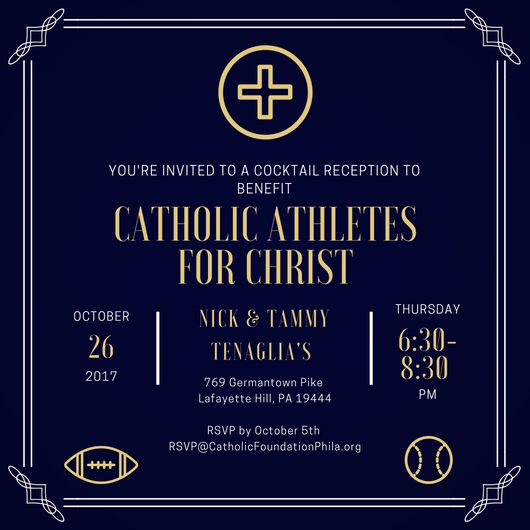 Event Name
Catholic Athletes for Christ Cocktail Benefit
Event Location
769 Germantown Pike Lafayette Hill, PA
Start Date and Time:
Thursday, October 26, 6:30 PM
End Date and Time
Thurrsday, October 26, 8:30PM
Event Description
Catholic Athletes for Christ (CAC) mission is to serve Catholic athletes and share the Gospel of Christ in and through athletics. CAC works with athletes at all levels in an effort to promote a Catholic sports culture. You and a guest are cordially invited to attend an exciting cocktail reception to learn more about CAC. CAC founder and President, Ray McKenna, will be in attendance to share more about his experience and why CAC is so important to our athletes, coaches and staff.
All coaches, youth ministers, and priests, are invited to the cocktail reception to learn more about this great organization.