Posted October 18, 2017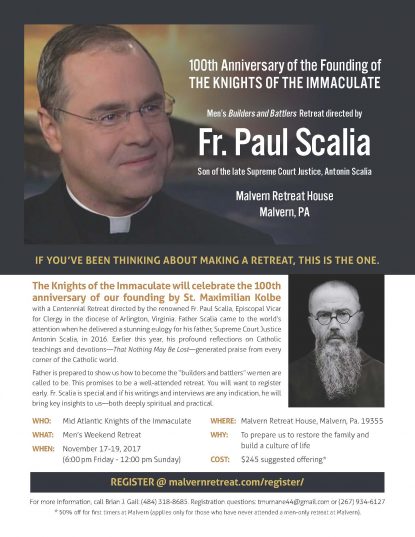 Event Name
Knights of the Immaculate Men's Retreat with Fr. Paul Scalia – Son of the Late Supreme Court Justice Antonin Scalia
Event Location
Malvern Retreat House 315 S. Warren Ave. Malvern PA 19355
Start Date and Time:
November 17th, Friday at 5pm
End Date and Time
November 19th, Sunday at 12 noon
Event Description
Father Scalia is prepared to show us how to become the "builders and battlers" we men are called to be. This promises to be a well-attended retreat. You will want to register early. Fr. Scalia is special and if his writings and interviews are any indication, he will bring key insights to us—both deeply spiritual and practical.