Posted October 26, 2017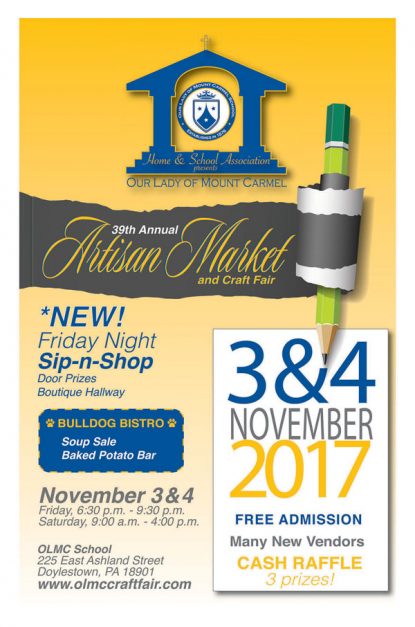 Our Lady of Mount Carmel School in Doylestown will host its annual holiday Artisan Market and Craft Fair on Friday, Nov. 3 from 6:30 to 9:30 p.m. and on Saturday, Nov. 4  from 9 a.m. to 4 p.m.
Now in its 39th year, this indoor event will feature more than 100 artists and crafters selling items that include handcrafted jewelry, textiles and one-of-a-kind creations.
New this year will be a "Boutique Hallway," with items for sale from local retail shops and vendors.
A raffle, a homemade bake sale and a "Bulldog Bistro" will round out the festivities.
Admission is free. Proceeds will benefit Our Lady of Mount Carmel School, located at 225 E. Ashland Street in Doylestown.
For more information, contact Tammy Murphy at 215-489-0154 or contact.olmccraftfair@gmail.com. More details are also available at the fair's website.