Posted October 30, 2017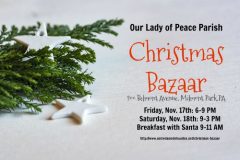 Holiday shoppers can enjoy breakfast, lunch or dinner with Santa at Our Lady of Peace Parish's upcoming Christmas bazaar.
The event will begin on Friday, Nov. 17 at 6 p.m., with shopping and dinner available. The bazaar will reopen at 9 a.m. on Saturday, Nov. 18, featuring breakfast with Santa, lunch and more shopping until 3 p.m. Gift baskets and treasures from Grandma's Attic will round out the fun.
Our Lady of Peace Parish is located at 200 Milmont Avenue in Milmont Park. For more information, contact the rectory at (610) 532-8081 or visit the parish website at https://olp-parish.com/