Posted November 13, 2017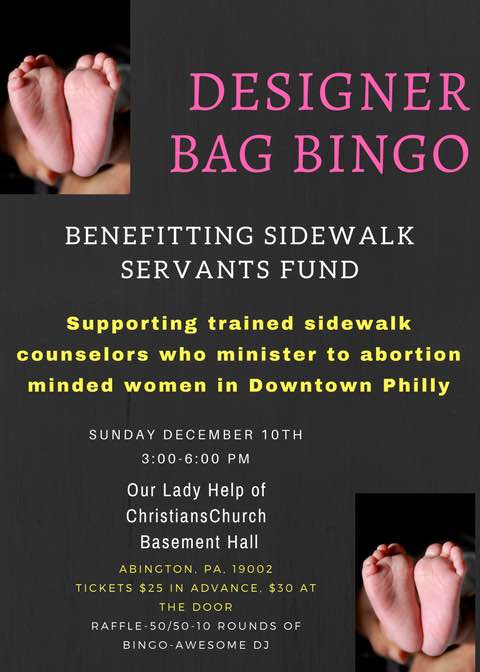 Event Name
Designer Bag Bingo
Event Location
Our Lady Help of Christians Church, basement hall, 1500 Marian Road, Abington, PA 19001
Start Date and Time:
Sunday, December 10, 3 p.m.
End Date and Time
Sunday, December 10, 6 p.m.
Event Description
Designer Bag Bingo will be held at Our Lady Help of Christians Church in time for the Christmas shopping season. Proceeds will benefit the Sidewalk Servants Fund to support trained sidewalk counselors who minister to abortion-minded women in Philadelphia. Tickets are $25 in advance, $30 at the door. Many great prizes will be given away and there will be a 50/50 raffle. A DJ will provide music.
To purchase tickets in person contact Dr. Monique Ruberu at 469-231-9084.
Ticket URL (optional)
https://www.eventbrite.com/e/designer-bag-bingo-tickets-39791887607?aff=utm_source%3Deb_email%26utm_medium%3Demail%26utm_campaign%3Dnew_event_email&utm_term=eventurl_text