Posted November 20, 2017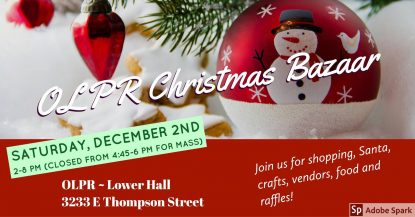 Event Name
Our Lady of Port Richond Christmas Bazaar
Event Location
Our Lady of Port Richmond School, 3233 E. Thompson Street, Philadelphia
Start Date and Time:
Saturday, Dec. 2, 2 p.m.
End Date and Time
Saturday, Dec. 2, 8 p.m.
Event Description
Join us for a fun-filled day of shopping, Santa, crafts, food and raffles! There will be a variety of vendors and crafters available to cater to your Christmas shopping needs!
The bazaar will close from 4:45 – 6 p.m. for our Family Mass. We encourage all to attend!
If you are a vendor or crafter and would like to purchase a table, please contact homeandschool@ourladyofportrichmond.com.