Posted November 13, 2017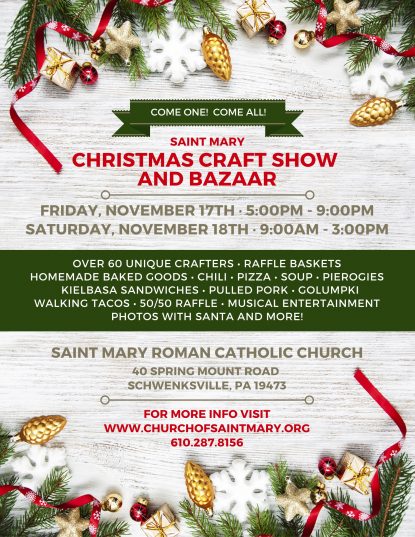 Event Name
St. Mary Christmas Craft Show and Bazaar
Event Location
St. Mary Church, 40 Spring Mount Road, Schwenksville, PA 19473
Start Date and Time:
Friday, November 17 from 5 – 9 p.m.
End Date and Time
Saturday, November 18 from 9 a.m. – 3 p.m.
Event Description
Come one, come all! Find the perfect gift and shop for beautifully crafted designs from talented local artisans at St. Mary Christmas Craft Show and Bazaar on Friday, Nov. 17 to Saturday, Nov. 18. Featuring over 60 unique crafters in both the Parish Hall and St. Mary School. There will be musical entertainment, homemade soup, chili, pulled pork, perogies, kielbasa sandwiches, golumpki, hot dogs, walking tacos, pizza, candy, raffle baskets filled with goodies, pictures with Santa and so much more! Take a chance at winning our 50/50 or one of over 50 beautiful raffle baskets on display!
St. Mary Roman Catholic Church is located at 40 Spring Mount Road in Schwenksville, PA 19473. For more information visit the St. Mary website at www.churchofsaintmary.org or call 610-287-8156.