Posted February 27, 2018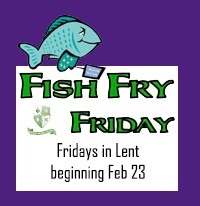 St. Mary Parish, located at 40 Spring Mount Road in Schwenksville, offers a fun and delicious way to observe Lent.
From Feb. 23 to March 23, the parish will host weekly "Fish Fry Fridays" from 4 p.m. to 7 p.m.
Dinner is available either as a "sit-down" meal or as takeout.
The menu features a fried fish platter, meatless spaghetti with buttered bread and grilled cheese. Weekly specials include crab cakes (Feb. 23 and March 23), baked salmon (March 2), shrimp scampi (March 9) and baked salmon (March 16).
Adult meals include a choice of two side dishes (french fries, coleslaw, tossed salad or meatless spaghetti), a beverage and homemade dessert.
Children's meals (for those under 12 years old) are also available, and include meatless spaghetti with buttered bread, a small fried fish platter or grilled cheese. All children's meals include a choice of one side dish, a beverage and a homemade dessert.
There is no charge for children aged three and under.
Diners who attend each week can enjoy a "frequent buyer meal card," which offers $4 off your fifth entree after you purchase four regular, special or children's meals.
The weekly dinners will also feature a 50/50 drawing and assorted raffle baskets.
A complete menu and pricing is available online at www.churchofsaintmary.org
For additional information, contact Kevin at kevin48.odonnell@gmail.com or (610) 287-8156.
Win free tickets, help support CatholicPhilly.com
CatholicPhilly.com often partners with our region's top cultural venues. During this two-week period, you can benefit by our association with The Franklin Institute in Philadelphia.
Make a donation of any amount during this period and you will receive two general admission tickets to Philadelphia's premier educational museum -- that's a $60 value.
Use our secure credit card form by clicking the link below. That will enable us to contact you so we can send the tickets, which are valid to September 2018.
Your donation helps us to provide high-quality coverage of the local Catholic communities we primarily serve, while also distributing national and world news of interest to Catholics, plus the orthodox teachings of the Catholic faith. Your gift gift of $40, $50, $100, or more will strengthen the fabric of our entire Catholic community.
Make your donation by credit card here: