Posted August 9, 2018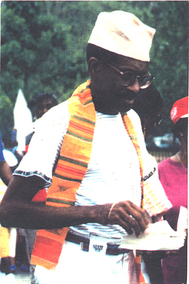 The Philadelphia chapter of the Sickle Cell Disease Association of America and AFSCME District Council 33 will join forces on Sept. 22 to fight sickle cell disease, which affects close to 100,000 African Americans in the U.S.
The 21st annual Walter E. Brandon Sickle Cell 5K Walk and Run will take place on Saturday, Sept. 22 from 7 a.m. – 12 noon in Fairmount Park at Belmont Avenue and Avenue of the Republic, Philadelphia (across from Please Touch Museum).
Founded in 1998 in memory of the association's co-founder, Walter E. Brandon, this event has served as a platform to raise awareness about sickle cell disease and sickle cell trait, along with the importance of getting tested. Reverend Brandon lived with sickle cell disease, which influenced his life's work.
The run will feature a morning kick-off program with a bell-ringing ceremony to honor those who have passed away from complications of the disease. A wellness pavilion, health screenings, community resources and information, children's activities, music, entertainment and refreshments will be available. Prizes will be awarded for the top female and male runners in each age group.
The walk/run is a rain or shine event. Online registration for individuals and teams is available at www.sicklecelldisorder.com