Posted August 6, 2018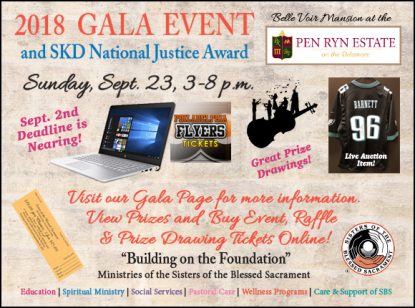 Event Name
SBS Annual GALA 2018
Event Location
Belle Voir Manor
Start Date and Time:
Sept. 23, 2018, 3 p.m.
End Date and Time
Sept. 23, 2018, 8 p.m.
Event Description
Join us for the 2018 GALA charity event for the Sisters of the Blessed Sacrament hosted at the beautiful Belle Voir Mansion at Pen Ryn Estate in Phila., PA. This annual event features a cocktail hour, followed by a buffet dinner, dancing, prize drawings and live auction. This year it will also include the presentation of the SKD National Justice Award to Sr. Pat Daly. For more information, to view the prizes available in our Prize Drawing, to purchase tickets or buy money raffle tickets, see the 2018 GALA Event Page on our website.
Ticket URL (optional)