Employment
HELP WANTED
——————————————————
DIRECTOR OF SALES AND MARKETING
Full-time, flexible schedule as necessary.
Malvern, PA (Philadelphia area)
Malvern Retreat House, a Catholic retreat house located on 125 acres of wooded countryside, has an immediate opening for a Director of Sales/Marketing.
Reporting directly to the President, in conjunction and coordination with the Rector and Director of Hospitality, this individual supports the Malvern Retreat House mission through a self-directed and comprehensive sales, marketing and communications program.
Responsible for managing and developing retreat content and for implementing direct marketing projects, your goal will be to improve the men and women of Malvern traditional programs and our non-traditional participant numbers while retaining/attracting traditional participants.
•           Work to enhance existing marketing avenues, explore/develop other programmatic opportunities, and increase enrollment for all programs.
•           Analyze prospective participants, market segments and direct marketing print and social network strategies.
•           Develop and implement effective communication system for internal and external constituencies through e-mail blasts, Twitter, Facebook and website, etc.
•           Write and distribute press releases, articles and testimonials.
•           Build additional participant loyalty by developing and implementing programs capitalizing on customer interaction.
•           Produce direct mail letters, brochures and other marketing materials.
We seek a highly organized individual with 3-5 years of marketing experience in a not-for-profit setting. Proficiency in Microsoft Word, Excel and Pagemaker or equivalent required. Graphic media skills preferred. Experience with social media is a plus.
To apply, e-mail resume to hr_department@malvernretreat.com
EOE
————————————————————————————————
DONOR ASSOCIATE
The Society of Mary (Marianists)
Philadelphia area 
The Society of Mary (Marianists) a religious order of brothers and priests are seeking an individual to join our development team as a Donor Associate in the Philadelphia area.  The individual will have three to five years of experience in the development arena.  Responsibilities of this position include: increasing financial support among donors within an assigned portfolio raising both major and planned gifts for the works of the Marianists to reach established annual fundraising goals; Oversee all stages of donor relationships including; cultivation, solicitation and stewardship building strong relationships and developing gift and stewardship plans.  This position has the opportunity to work closely with local Marianists to assist in developing donor relationships whenever feasible.
Read the full job description at www.marianist.com/jobs.  Candidates should send cover letter, resume and salary history to megarcia@sm-usa.org.
————————————————————————————————
HOME CAREGIVERS Live-in/hrly positions avail. Seeking non-medical companions or CNA to assist elderly in their homes. Top hourly fees. 610-924-9663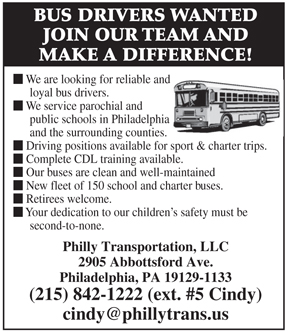 POSITION WANTED
CAREGIVER  Seeking job as live-in or out. Experienced w/ refs. Cell 646-752-3123 or 215-695-0235.
Private Duty Companion/ CAREGIVER/ Health Aide Position Desired.Experienced female can live in or out, Avail. now, good refs. 215-725-8423 or  rcimorelli@hotmail.com