By Elizabeth Fisher • Posted August 27, 2015
Imagine large sections of center city Philadelphia accessible and security-free during Pope Francis' visit to the city to cap off the World Meeting of Families in September.
That's what planners of the "I'll Be There" campaign have in mind for visitors wary of being corralled by the large crowds expected for the Sept. 26-27 papal visit to Philadelphia.
Called the Francis Festival, the campaign is an invitation to local, regional and international visitors to meet and greet in the streets in a festive atmosphere while enjoying street-festival events that will entertain the crowds.
Businesses and residents of center city were also invited to participate in the celebrations as announced at a press conference Aug. 26 at the Jack's Firehouse restaurant in Fairmount by Philadelphia Mayor Michael Nutter, World Meeting Executive Director Donna Crilley Farrell and other officials.
There's plenty of room for the festival to stretch out because it encompasses South Street to Girard Avenue, and the Delaware River to 38th Street. Revelers entering the festival grounds at any of those locations will not need to go through the U.S. Secret Service check points.
"Our message is simple: Come and be part of history," said Farrell. "The Francis Festival is exactly what we have always envisioned for these two days — a joyful celebration across the entire city."
Once within the Francis Festival area, visitors will be welcomed by local businesses, restaurants, convenience stores and vendors for food and beverages and retail items.
Hundreds of those businesses across the city will receive promotional kits on Monday, Aug. 31 from Nutter and Farrell.
The kits carry the Twitter handle #OpeninPHL as a title and will include signage, a window cling, branded buttons, business resources and additional information on how businesses can get involved to serve local and international visitors.
World Meeting volunteers will wait at the entrance of each location to distribute religious medals and/or prayer cards to visitors to serve as a reminder of his or her participation in this historic visit. Festival planners urge participants to use social media to share their participation and create their own permanent memories by way of Instagram, Twitter, or Facebook.
#OpenPHL kits will also be available for pickup at several locations in the city: 30th Street Station, 30th and Market streets; African-American Chamber of Commerce, 1617 John F. Kennedy Boulevard, Suite 889; Greater Philadelphia Hispanic Chamber of Commerce, 200 Broad Street, Suite 700; Philadelphia International Airport, 8000 Essington Ave.; Pennsylvania Convention Center, 1103 Arch Street; and Reading Terminal Market, 51 N. 12th Street.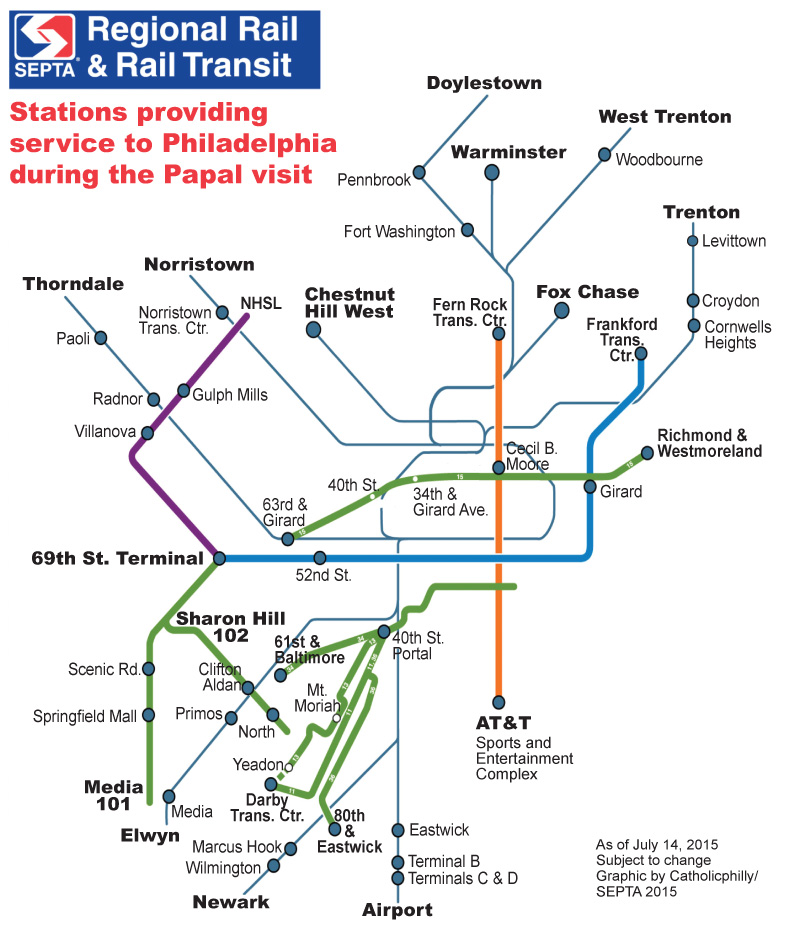 The SEPTA and PATCO transit systems will deliver riders directly to the festival grounds. SEPTA buses, subways and other trains, including the Regional Rail line's 18 outlying stations designated during the Sept. 26-27 weekend. (See the system map on this page.) Riders will not have to walk more than one mile to access either of the two main even locations, Benjamin Franklin Parkway or Independence Hall, according to organizers.
The Francis Festival will be open Saturday, Sept. 26 and Sunday, Sept. 27 from 6 a.m to 11 p.m. on both days.
Forty large Jumbotron screens placed along the parkway and other locations will begin broadcasting various programs at 6 a.m. Saturday.
Included in the programming lineup are the highlights of the papal visit: Saturday's 9:30 a.m. arrival of Pope Francis at the Atlantic Aviation wing of Philadelphia International Airport; the 10:30 a.m. Mass at the Cathedral Basilica of SS. Peter and Paul; the 4:45 p.m. address by the pope at Independence Hall; and the 5 p.m. start of the Festival of Families, with the pope's participation beginning at 7:30 p.m.
On Sunday, the Jumbotrons will show all aspects of the 4 p.m. papal Mass on the parkway near the Philadelphia Museum of Art. Exact locations for the Jumbotrons will be announced soon, according to event organizers.
Planners also intend to offer more information on the festival, and the crucially important transportation details, by next week.
Farrell urged visitors not to be intimidated by the deluge of information released about the security measures and blocked streets. Instead, they should take advantage of the grace, beauty and excitement offered by the pope's visit.
"Being on the parkway or at Independence Hall are not only ways in which our community can be part of this spectacular event," she said. "It is about a shared moment of community, family and great fun."