By M.J. Nevadomski • Posted September 23, 2015
Auxiliary Bishop Robert Barron of the Archdiocese of Los Angeles, founder of the acclaimed Word on Fire ministries and perhaps the most in-demand speaker in the Catholic world today (short of the Holy Father himself) delivered the opening keynote address to Philadelphia's World Meeting of Families on Tuesday, Sept. 22. 
The title of his talk was "Living as the Image of God: Created for Joy and Love," and was delivered to a house packed with over 12,000 pilgrims at the Pennsylvania Convention Center, the first in a series of keynote speeches given throughout the World Meeting by prominent Catholic thinkers on church and family life in the lead up to Pope Francis' visit to Philadelphia this weekend.
As evidenced by the crowd's intermittent applause throughout his introduction by Gregory Popcak, who is speaking later at the congress in a breakout session with his wife Lisa, Bishop Barron needed no introduction. Many people came on Tuesday specifically for his keynote.
Christine Regan, a city resident and employee of Maternity B.V.M. Parish in Northeast Philadelphia, summed up the thoughts of many anticipating the bishop's talk. 
"I can't be here all week because of work, but today because I'm here because I'm a Father Barron junkie and can't get enough of him," Regan said.
Indeed, the entire audience welcomed him in a standing ovation before he spoke a word, leading him to begin his remarks on a humble note. He thanked everyone and praised Archbishop Charles Chaput as "one of the really great churchmen of our day." 
The bishop also quipped, "I'm still getting used to this outfit, so if I play with my little hat, pay no mind," alluding to his magenta-accented choir cassock. Popcak said he had "that new bishop smell" — after the bishop's ordination to the episcopate this past Sept. 8.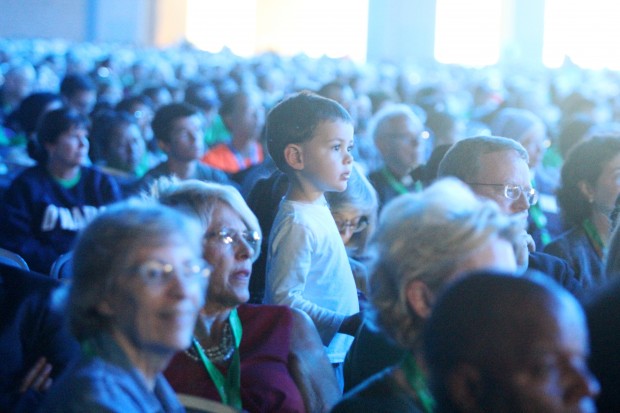 His modest preface concluded, Bishop Barron dove deep into his subject, complete with a minor Latin lesson: that we as humans are made in the imago Dei, the image and likeness of God. He was quick to point out that this was not "a special privilege" granted for us to luxuriate in, but that it was a mission call to bring God's plan out into the world.
Bishop Barron began by quoting St. Anthanasius's "On the Incarnation": "God became man that man might become God," a saying that reflects the greatest sense of humanism the world has ever known. The bishop said we should not mistake such a maxim for "making ourselves God" but that, imprinted with the divine likeness, that image tinges our being with moral responsibility. 
God asks us to share in his divinity by being "fully human," which for Bishop Barron (and Athanasius before him) is the real glory of God. Nowhere else, said the bishop, can another philosophy claim such an extravagant sense of humanism.
Bishop Barron described the quest to achieve the fulfillment of our divine imprint as threefold — fitting into the threefold role that Adam was given in the creatioj story of the book of Genesis — the roles of priest, prophet and king. 
Describing it as a liturgical procession, Bishop Barron pointed out that each created thing is called out in the first chapter of Genesis as an indictment of the ancient world's worship of sun, moon and stars. And at the end of the procession, man comes forth like a priest to lead creation "in a great chorus of praise."
Adam's roles as priest, prophet, and king — and Christ's later perfection of them — formed the structure of Bishop Barron's keynote. Humankind is made to sanctify the world through "right praise," the bishops said, and he noted that most people think of the word "orthodoxy" as "right belief," but "praise" is closer to the original Greek term.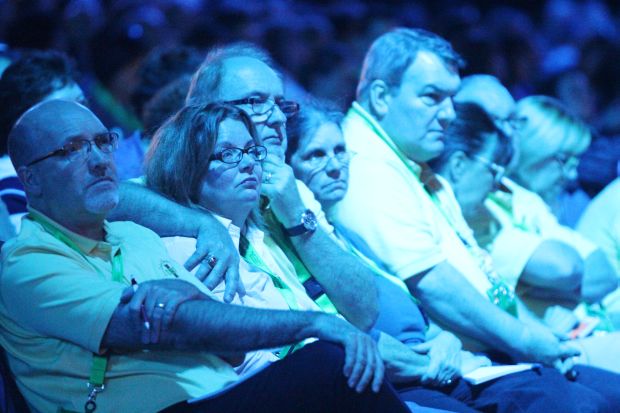 "If things are going wrong," the bishop said, "the wrong things are being praised," using the biblical example of the 450 priests of Baal against Elijah to illustrate. As flawed beings, people so often build altars like the priests of Baal: pleading, hopping about, begging the favor of false deities of wealth, honor, power and pleasure, even to the point "of wounding ourselves deeply," and still we are not satisfied. 
It is only when people give glory to the true God that they are fulfilled, the bishop said, and Catholics have a duty to go out and teach contemporary cultures how to praise rightly, as the prophet Elijah did.
Key to this, said Bishop Barron, is recognizing one's role as a prophet. He recalled how in Genesis Adam "catalogues" the animals and all creation, naming all things in turn. Adam names them according to "the Word, the intelligibility of God," the bishop said. 
To name rightly, it follows we must be kings, just as Adam was charged to bring order and harmony to the world — to "Edenize it," he said.
Authentic Christianity is meant to be "on the march," Bishop Barron said. "We must go out on campaign and announce the Gospel."
"He really is a modern-day Fulton Sheen," said Steven Lewis, a former Philadelphia resident and now coordinator for young adults and evangelization for the Diocese of Oakland in California. "I got cramps just taking notes, wanting to write down everything.
"And I want to go out and change the world."
Help keep Catholic media free, support CatholicPhilly.com
You may have noticed "pay walls" greeting you when you visit the websites of newspapers and magazines, both large and small. These mechanisms allow you to read a few articles for free before you've got to pay an annual fee if you want to see more.
You won't find a pay wall on CatholicPhilly.com because we're more than a news organization. We're informing, inspiring and forming readers in the Catholic faith every day through the news, features and commentaries that we post on this site and share across social media.
It costs money to provide high-quality coverage of the local Catholic communities we primarily serve, while also distributing national and world news of interest to Catholics, plus the orthodox teachings of the Catholic faith.
Help us in this mission by making a single gift of $40, $50, $100, or more. Your gift will strengthen the fabric of our entire Catholic community.

Make your donation by check:
CatholicPhilly.com
222 N. 17th Street
Philadelphia, PA 19103

or by credit card: