By Lou Baldwin • Posted November 12, 2015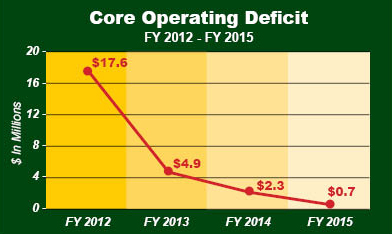 Just-released audited financial statements issued by the Archdiocese of Philadelphia's Office for Financial Services for the fiscal year (FY) ending June 30, 2015 show continued improvement, although still not yet in the black.
The most dramatic figure is a core operating deficit (which excludes non-recurring items) of $0.7 million in FY 2015 versus $17.6 million in FY 2012, $4.9 million in FY 2013 and $2.3 in FY 2014. What makes that especially noteworthy is at the time of the FY 2014 report it was estimated the FY 2015 operating deficit would increase, not decrease.
The reported operating result, which was a deficit of $743,982 last year and a deficit of $39.2 million in 2012 is reported in the plus column at $13.3 million for FY 2015.
"Our core operating deficit continues to improve and it's gratifying to have more stability and predictability in our results," said Timothy O'Shaughnessy, the archdiocese's Chief Financial Officer. "Our 2015 result is probably better than we are realistically able to sustain."
The deficit may increase slightly in the future, he said, due to higher seminary enrollment and increased pension costs. But O'Shaughnessy said he hoped it "won't be worse than $1 (million) to $1.5 million."
One reason why next year's result may not be as encouraging as this year's is because "the number of Philadelphia seminarians is much higher this year and we pay tuition for our seminarians."
St. Charles Borromeo Seminary welcomed 20 new seminarians studying for the Philadelphia Archdiocese this year; the previous year saw six new men entering priestly formation.
"That's a terrific development obviously," O'Shaughnessy said, "but it has an impact on our financial result that we are happy to pay for."
The archdiocese pays the full annual cost of $34,925 (including tuition, room, board and fees) for seminarians in the Theology Division and Spirituality Year. It also pays all but $9,400 of the $32,975 annual cost for men in the College Division and Pre-Theology, the smaller figure representing the amount a seminarian may obtain in tuition assistance grants or for which his family would be responsible to pay per year.
The financial statements, audited by the accounting firm Grant Thornton, report on the Office for Financial Services, the central office managing most of the archdiocese's finances. They do not cover financial results for the Office for Catholic Education, Catholic Health Care Services, St. Charles Borromeo Seminary, the Catholic Charities Appeal and other entities. Those audited financial statements will be released shortly.
Parishes also are not included because they are distinct entities separate from the archdiocese.
The Deposit and Loan Fund, through which parishes receive interest from deposit of funds that are in turned loaned to other parishes, was underfunded by $82 million in FY 2012. This has been reduced to $42.6 million as of June 30, 2015, and it is expected to be completely eliminated through application of funds from the Oct. 30 sale of Mary Immaculate Center in Northampton and pending sales of several other properties.
They include the former Don Guanella Village site on Sproul Road in Marple Township, Delaware County, the sale of which is expected to close before June 30, 2016; a property that at one time was earmarked for a new archdiocesan high school in Hilltown, Montgomery County, expected to close before June 30, 2016; and a property near St. Martha Manor on Manor Road in Downingtown, Chester County, expected to close before Dec. 31, 2017.
According to a supplemental narrative document released by the archdiocese along with the audited financial statements, proceeds from the sales of the properties should be "in the $35-40 million range."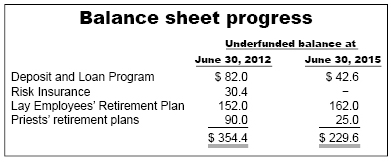 The priests' retirement plans, which were virtually unfunded in FY 2012, now have $82 million in available assets, just $25 million short of the estimated liability. The swing is attributed mainly through funds allocated from the lease of the archdiocesan cemeteries and the sale of the archdiocesan nursing homes.
Currently every parish, ministry or archdiocesan office with an assigned archdiocesan priest is charged $11,700 per active priest for his retirement obligations. O'Shaughnessy said, "I am hopeful that we will be able to lower this (charge) slightly."
The Risk Insurance Fund, which was underfunded by $30.4 million in FY 2012, is now fully funded.
The single most unresolved balance sheet shortfall is that of the Lay Employees Retirement Plan (LERP), which was a defined benefit plan. It was frozen in 2014 when a 403(b) defined contribution plan was established for current employees.
Although some employees near retirement opted to take a buyout from the LERP, many employees and retirees will receive future pension benefits based on earnings prior to June 30, 2014.
At the time of the recent audit, assets available for LERP benefits are approximately $477 million, which is approximately $162 million short of the estimated $639 million needed for full funding based on the current actuarial valuation. While the available funds will certainly cover pensions well into the future, the shortfall will have to be addressed ultimately.
Toward this goal, $7.5 million from the nursing homes transaction was allocated to the LERP shortly after the completion of the audit.
"We are facing our pension challenges head on and will continue to do so," O'Shaughnessy said. "We will need to increase our funding going forward and we also need to consider using proceeds from future real estate transactions for this obligation."
Help keep Catholic media free, support CatholicPhilly.com
You may have noticed "pay walls" greeting you when you visit the websites of newspapers and magazines, both large and small. These mechanisms allow you to read a few articles for free before you've got to pay an annual fee if you want to see more.
You won't find a pay wall on CatholicPhilly.com because we're more than a news organization. We're informing, inspiring and forming readers in the Catholic faith every day through the news, features and commentaries that we post on this site and share across social media.
It costs money to provide high-quality coverage of the local Catholic communities we primarily serve, while also distributing national and world news of interest to Catholics, plus the orthodox teachings of the Catholic faith.
Help us in this mission by making a single gift of $40, $50, $100, or more. Your gift will strengthen the fabric of our entire Catholic community.

Make your donation by check:
CatholicPhilly.com
222 N. 17th Street
Philadelphia, PA 19103

or by credit card: