Posted November 13, 2015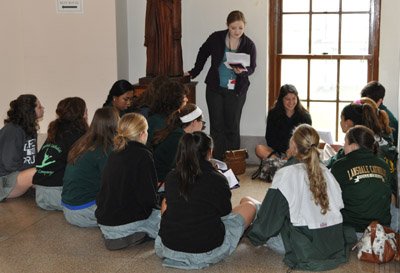 The annual High School Respect Life Leadership Day drew some 380 students from 14 Catholic high schools in the Philadelphia Archdiocese Nov. 12 at St. Charles Borromeo Seminary.
Officials from the archdiocesan Office for Life and Family, sponsor of the long-running perennial event, said it was the largest in its history, far surpassing the 250 attendees on average in past years.
The day featured lunch, breakout talks and two sessions, from 9 a.m. to 1:30 p.m., in which students heard speakers from the Culture Project, a group of dynamic Catholic young adults, and a talk by Michele Hendrikson of Students for Life.
The theme for the day was "Embracing the pro-life message: It's OK to stand up for what is right … even when it's not popular!"
Because of the large and growing number of teenage participants, next year's event might move to a larger location, according the Office for Life and Family's director, Steven Bozza.
To encourage more participants, the Office of Catholic Education helped where needed with financial assistance for the $15 per person fee and transportation costs.