Posted December 4, 2015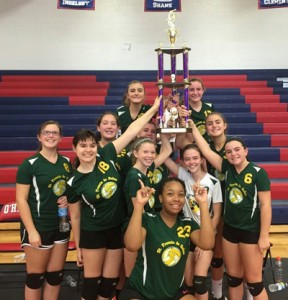 The St. Francis de Sales Girls Volleyball Junior Varsity Gold team recently won the championship in Region 30 of the Archdiocese CYO program.
JV players include Courtney Tonn, Anna DelVacchio, Miriam Coynta, Elizabeth Kurcon, Lauren Kurcon, Anna Rose Ahearn, Olivia Bowers, Kate McGroarty and Erin Lynch. This is a newly-formed team at St. Francis de Sales, and the athletes were playing for the parish for the first time.
In addition, the SFDS Girls Varsity team placed second in Region 30 and made it the final four in the Philadelphia Archdiocesan Championships.
Varsity players include Taylor Blunt, Lauren Garvey, Katelyn Judge, Julia Kasper, Jessica Kasper, Maddie Kikut, Erin Kurcon, Katie Lee, Cailey McDermott, Grace Stefankiewicz, Natalia Savarese and Kirsten Zoellner.