By Lou Baldwin • Posted November 29, 2016
Continuing a tradition that started about 30 years ago, archdiocesan Nutritional Development Services is offering alternative Christmas cards.
They serve the dual purpose of reminding what Christmas is really all about, and at the same time supporting the charitable mission of NDS' outreach to the poor and hungry through the Community Food Program.
Over the years, all the cards have been designed free of charge by artist Patty Smith, according to Anne Healy Ayella, the director of non-government programs and community relations at NDS.
There have been about 15 different card designs issued from time to time, and this year buyers will be able to choose from 11 of them.
For the first time a new design, executed in blue, features the Blessed Virgin holding the Baby Jesus, and two little angels playing musical instruments with a quotation from St. Francis of Assisi: "Lord make me an instrument of your peace; where there is hatred, let me sow love."
The inside text reads, "Celebrate the Birth of Christ, the Prince of Peace."
There is also a notation that the card provides a direct contribution to the poor.
A new feature, an alternative inside text for priests, reads: "You and your loved ones will be remembered in the Holy Sacrifice of the Mass on Christmas Day."
Favorites from Christmases past that are still available include "The Holy Family," "Mary's Child," "Angels Decorating the Tree," "The Christmas Tree," "Angel of Bounty," "Child of Wonder," "The Lamb of God," "The Little Child of Peace," "The Dove of Peace" and "The Littlest Angel."
Cards with the text for priests are available in this year's new design and also "The Christmas Lamb," The Nativity," "Mary's Child" and "The Holy Family."
Cards are sold in packs of 10 for $15 or packs of 20 for $25. Suggested postage is $2 to $3 for 10 cards, $3 to $4 for 20.
Checks should be made payable to NDS. Orders can be sent to NDS, 222 N. 17th St., Philadelphia, PA 19103 or call 215-895-3470 ext. 77823.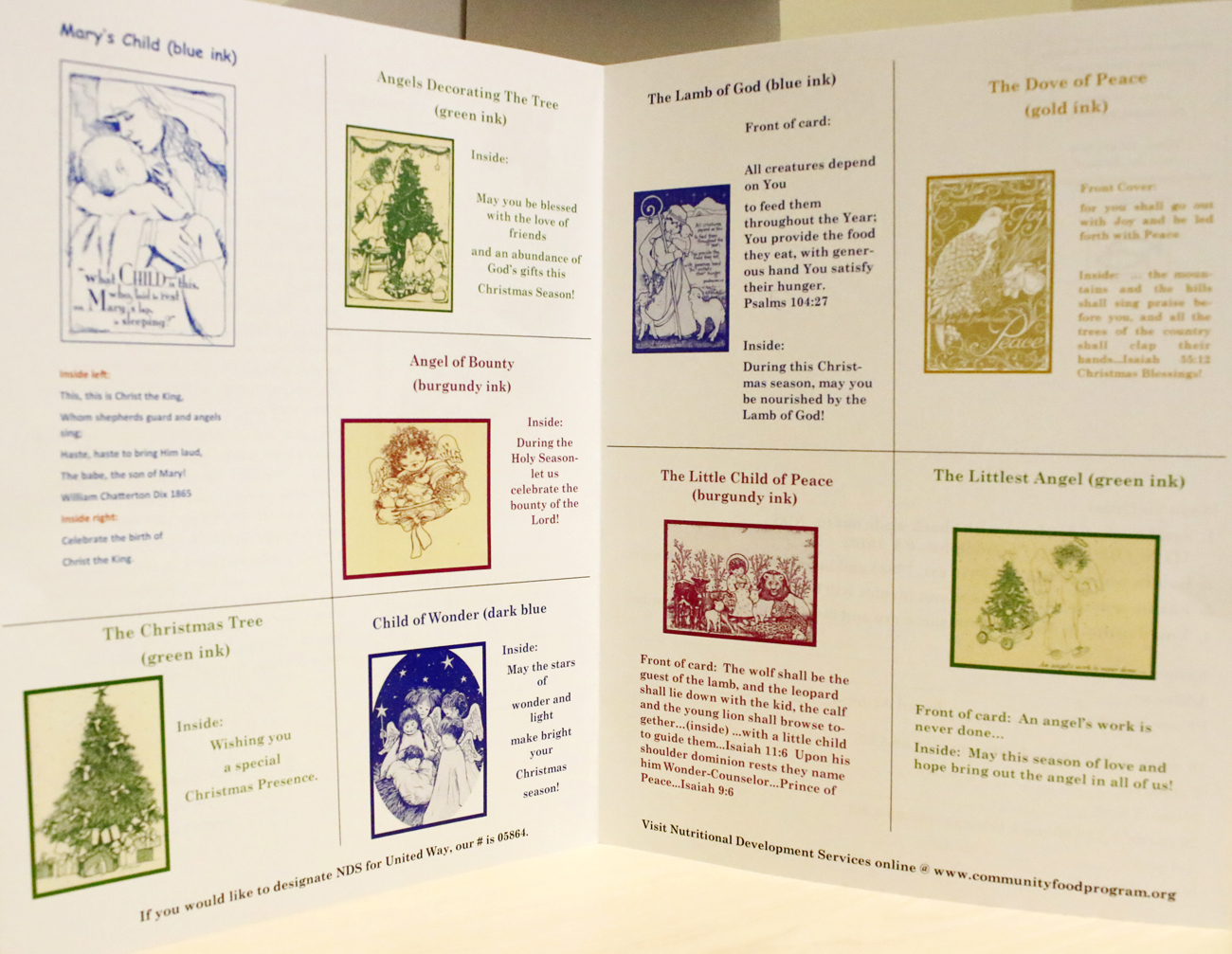 Win free tickets, help support CatholicPhilly.com
CatholicPhilly.com often partners with our region's top cultural venues. During this two-week period, you can benefit by our association with The Franklin Institute in Philadelphia.
Make a donation of any amount during this period and you will receive two general admission tickets to Philadelphia's premier educational museum -- that's a $60 value.
Use our secure credit card form by clicking the link below. That will enable us to contact you so we can send the tickets, which are valid to September 2018.
Your donation helps us to provide high-quality coverage of the local Catholic communities we primarily serve, while also distributing national and world news of interest to Catholics, plus the orthodox teachings of the Catholic faith. Your gift gift of $40, $50, $100, or more will strengthen the fabric of our entire Catholic community.
Make your donation by credit card here: