Posted March 23, 2017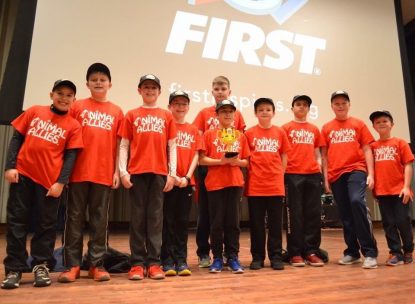 The TOBOR Red robotics team at Holy Cross Regional Catholic School in Collegeville won first place at the recent robotics regional championship at the University of Pennsylvania in the category Robot Mechanical Design, and finished 18th in the Robot Game competition.
The Collegeville team was among 48 teams competing from across the region.
In the competition, teams were asked to choose and solve a real-world problem. This year's theme was "Animal Allies."
TOBOR Red attained a perfect score on their project that involved creating a better way to avoid deer-and-vehicle collisions with a system that warns both drivers and deer of potential danger.
Using Lego bricks and guided by two or more adult coaches, teams up to 10 members, grades four to eight, research a real-world problem such as food safety, recycling or energy, among others, and are challenged to develop a solution.
Teams also must design, build and program a robot using the Lego Mindstorms product then compete on a table-top playing field.
Students have fun while learning to apply science, technology, engineering and math concepts (STEM), plus a big dose of imagination, to solve a problem. They develop critical thinking and team-building skills, basic STEM applications and presentation skills as they must present their solutions with a dash of creativity to judges.
They also practice the program's core values, which emphasize discovery, teamwork and good sportsmanship. To learn more, visit www.firstinspires.org.