Posted August 2, 2017
Event Name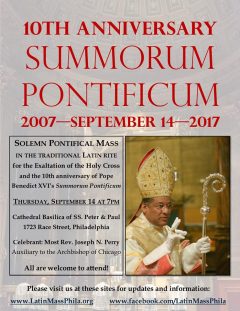 Event Location
Basilica of Sts. Peter and Paul Cathedral
Start Date and Time:
September 14th 7PM
End Date and Time
September 14th 830PM
Event Description
The Archdiocese of Philadelphia welcomes all to join us for a regional celebration of the 10th anniversary of the effective date of Summorum Pontificum: Pope Benedict XVI's motu proprio on the use of the Roman liturgy prior to the reform of 1970.
Bishop Joseph Perry (Auxiliary to the Archbishop of Chicago) will celebrate a solemn pontifical Mass according to the Extraordinary Form of the Roman Rite at the Cathedral Basilica of Ss. Peter & Paul. Mass will begin at 7pm on Thursday, September 14, 2017: the feast of the Exaltation of the Cross.