Posted August 2, 2017
Event Name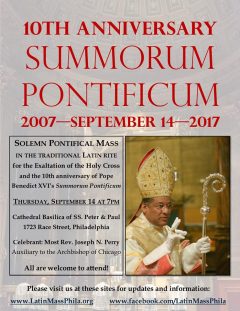 Event Location
Basilica of Sts. Peter and Paul Cathedral
Start Date and Time:
September 14th 7PM
End Date and Time
September 14th 830PM
Event Description
The Archdiocese of Philadelphia welcomes all to join us for a regional celebration of the 10th anniversary of the effective date of Summorum Pontificum: Pope Benedict XVI's motu proprio on the use of the Roman liturgy prior to the reform of 1970.
Bishop Joseph Perry (Auxiliary to the Archbishop of Chicago) will celebrate a solemn pontifical Mass according to the Extraordinary Form of the Roman Rite at the Cathedral Basilica of Ss. Peter & Paul. Mass will begin at 7pm on Thursday, September 14, 2017: the feast of the Exaltation of the Cross.
Win free tickets, help support CatholicPhilly.com
CatholicPhilly.com often partners with our region's top cultural venues. During this two-week period, you can benefit by our association with The Franklin Institute in Philadelphia.
Make a donation of any amount during this period and you will receive two general admission tickets to Philadelphia's premier educational museum -- that's a $60 value.
Use our secure credit card form by clicking the link below. That will enable us to contact you so we can send the tickets, which are valid to September 2018.
Your donation helps us to provide high-quality coverage of the local Catholic communities we primarily serve, while also distributing national and world news of interest to Catholics, plus the orthodox teachings of the Catholic faith. Your gift gift of $40, $50, $100, or more will strengthen the fabric of our entire Catholic community.
Make your donation by credit card here: