Posted September 5, 2017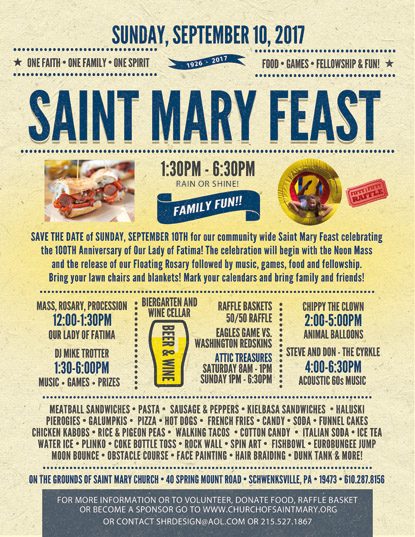 St. Mary Parish in Schwenksville, Montgomery County hosts the St. Mary Feast on Sunday, Sept. 10. The community-wide feast begins with the Noon Mass featuring a devotion to Our Lady of Fatima, a rosary procession and 65-foot floating rosary followed by music, games, food and fellowship until 6:30 p.m.
There will be homemade Latin, Polish, Italian and American foods, including meatball sandwiches, pasta, sausage and peppers, kielbasa sandwiches, haluski, pierogies, galumpkis, chicken kabobs (pinchos), rice and pigeon peas, walking tacos, pizza, hot dogs, french fries and cotton candy, along with fun carnival games, funnel cake, french fries, cotton candy, Italian soda, a rock wall, Eurobounce, dunk tank and more!
Bring your lawn chairs and enjoy acoustic 60's music by Steve and Don of the Cyrkle (Don, one of the Cyrkle members, has the distinction of being part of a select group of bands that accompanied, and opened-for, the Beatles on the Fab Four's last U.S. tour), as well as music and games by DJ Mike Trotter and animal balloons by Chippy the Clown.
Stop by our Attic Treasures sale on both Saturday, Sept. 9 from 8 a.m. to 1 p.m. and all day Sunday.
Come watch the Eagles game vs. the Washington Redskins on a big screen TV in our Biergarten and Wine Cellar with Cardinal Hollow wines. Also take a chance on the cakewalk, 50/50 or over 60 raffle baskets. Bring family and friends, there is something for everyone!
St. Mary Church is located at 40 Spring Mount Road, Schwenksville. For more information visit www.churchofsaintmary.org or call 610-287-8156.