By Jose Thomas • Posted September 15, 2017
More than 700 faithful from various Indian and American Christian communities filled the pews and choir loft of the Miraculous Medal Shrine in Germantown on Saturday, Sept. 9 for the feast of Our Lady of Good Health Vailankanni.
Devotion to this title of the Blessed Virgin Mary is traced to the mid-16th century and is attributed to three miracles at Vailankanni, a town in southern India known to many Indian Christians as the "Lourdes of the East." Mary and the Christ Child were said to appear to a slumbering shepherd boy, to have cured a lame buttermilk vendor and rescue Portuguese sailors from a violent storm at sea.
For the Indian-American Catholics in Philadelphia, the dedication of a Vailankanni Shrine at the Miraculous Medal Shrine was a special gift from Vincentian Father Carl L. Pieber, former director of the shrine who was inspired by the deep faith, devotion and love of Mary shown by the Indian Catholic community.
It was his dream to establish the new shrine after a statue of Our Lady of Good Health Vailankanni was blessed five years ago under the initiative of members of St. Thomas Syro-Malabar Catholic Parish in Philadelphia.
The celebration last Saturday at the shrine featured the Miraculous Medal Novena, Mass in the Syro-Malabar liturgy, a novena to Our Lady of Good Health Vailankanni, a rosary procession carrying Our Lady's statue and a healing prayer for the sick.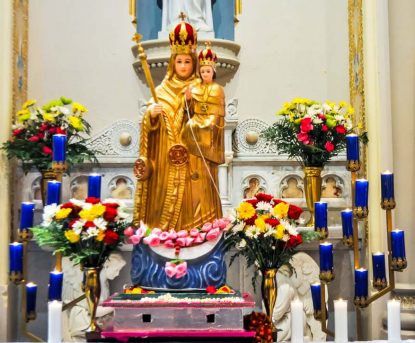 The shrine reverberated with Marian hymns, prayers and chanting of the rosary in various Indian and international languages and included a vibrant youth choir and a contingent of the Knights of Columbus.
Father Antony Thundathil, former vicar general of the St. Thomas Syro-Malabar Diocese of Chicago, was the main celebrant for the Mass. Father John Melepuram, pastor of St. Mary Syro-Malabar Parish in Hempstead, New York and a former pastor of St. Thomas in Philadelphia, was the homilist.
Leaders for this sixth year of festival celebrations at the shrine were Vincentian Father William J. O'Brien, the Miraculous Medal Shrine's director, and Father Vinod Madathiparambil, pastor of St. Thomas Syro-Malabar Parish in Philadelphia. Father Renny Kattel and Father Dijo Koyikkara concelebrated the Holy Qurbana along with the other priests.
The presence of religious sisters from various congregations, especially the Missionaries of Charity, were notable. In addition to the Syro-Malabar Catholics from Philadelphia and New York, many Indian Christian denominations from Philadelphia participated in the celebration.
The multicultural event was the result of coordination by St. Thomas Syro-Malabar Parish staff and faithful, as well as those from the Miraculous Medal Shrine.