By Matthew Gambino • Posted October 31, 2017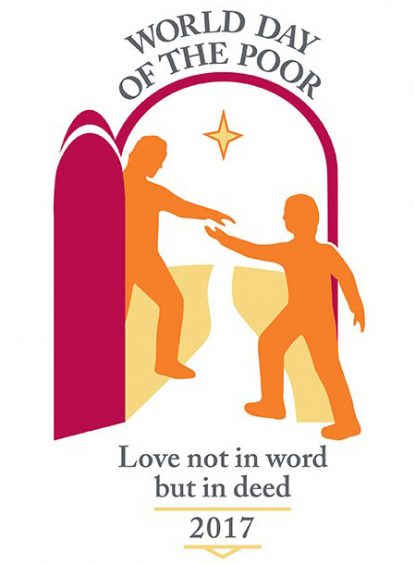 The first World Day of the Poor is set for Sunday, Nov. 19, and the 217 parishes of the Philadelphia Archdiocese are being invited to observe it.
A letter from the archdiocesan Office for Divine Worship was sent this week to the parishes and asked for efforts "to show the poor among us the love and care of the church."
The theme for the day is "Love not in word but in deed."
While in most cases no new concrete programs for the poor in parishes have developed since Pope Francis announced the new global day of awareness on Oct. 24, Archbishop Charles Chaput asks all Catholic clergy and lay faithful to remember the day in prayer.
The Pontifical Council for the Promotion of the New Evangelization has produced a 96-page document (download it in English here) with an introductory letter by the pope, suggestions for praying the Scriptures on the theme through lectio divina, several settings of communal prayer in the Liturgy of the Word, meditations during Eucharistic adoration, suggestions for pastoral plans to aid poor people and reflections of numerous Catholic saints on service to the poor.
Those saints include St. Katharine Drexel and St. Teresa of Calcutta as well as little-known saints and their thoughts on outreach to the poor. For example, Blessed Odoardo Focherini — an Italian journalist who died in a Nazi concentration camp for forging identification documents to assist Jewish people during World War II and who was beatified in 2013 — said, "I do what I can; where I cannot arrive, God arrives. Because I work for him, he is committed to helping me."
The Office for Divine Worship suggests Catholics pray the following intention in the universal prayer at all Masses on Nov. 19:
For all the poor throughout the world and in our midst,
that on this first World Day of the Poor,
they may come to know more concretely the love and care of the Church,
a love not with words but with deeds.
Let us pray to the Lord/Lord, hear our prayer.
In its letter the office urged all "pastors, all priests and deacons, men and women in the consecrated life, all those involved in Catholic and Religious Education on every level, Catholic Social Services, and every office and agency in the archdiocese" to promote the observance of the first World Day of the Poor.