By Matthew Gambino • Posted October 19, 2017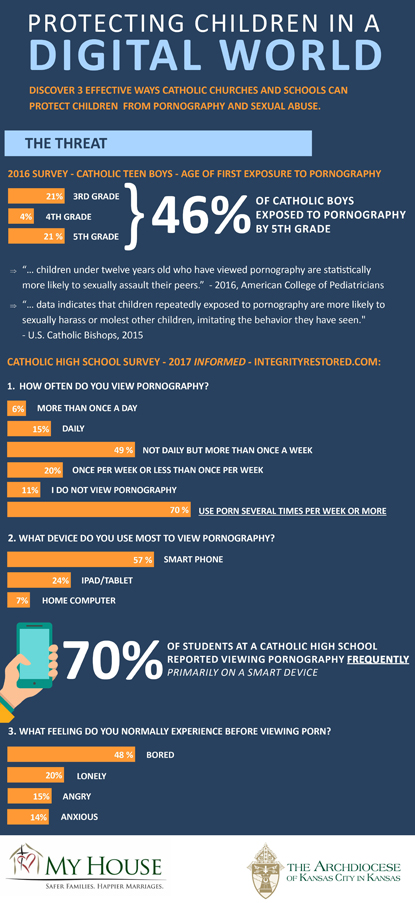 An online information session next month aims to combat the growth of pornography usage especially among teenagers.
The hour-long webinar titled "Parents, Kids and Pornography: The Attack on a Generation" will be free for anyone to access on Nov. 7 at noon and Nov. 16 at 8 p.m. (Eastern time).
Register in advance for the webinar here.
It has been prepared by the Religious Alliance Against Pornography (RAAP), a national interfaith organization that for the last two years has sponsored informational webinars to protect families and marriages from the sin of pornography.
RAAP includes members of the Orthodox Church, several Protestant churches, the Jewish and Muslim communities, Bishop Paul Loverde, retired bishop of the Catholic Diocese of Arlington, and Kansas City Archbishop Joseph Naumann, who shared it with leaders in the Archdiocese of Philadelphia.
The webinar will present data showing the high rate of pornography usage by young people in the middle school to high school-age group. Speakers on the webinar including two Evangelical pastors and parents who will the impact of pornography's destructive message and offer resources for Catholic parents, parishes and schools to protect students from it.
The Catholic Church opposes pornography in all its forms. Priest confessors often state that in the sacrament of penance, men and women frequently cite their struggles with pornography.
"Pornography consists in removing real or simulated sexual acts from the intimacy of the partners, in order to display them deliberately to third parties. It offends against chastity because it perverts the conjugal act, the intimate giving of spouses to each other. It does grave injury to the dignity of its participants (actors, vendors, the public), since each one becomes an object of base pleasure and illicit profit for others. It immerses all who are involved in the illusion of a fantasy world. It is a grave offense. Civil authorities should prevent the production and distribution of pornographic materials." (Catechism of the Catholic Church, no. 2354)