By Elizabeth Fisher • Posted August 27, 2015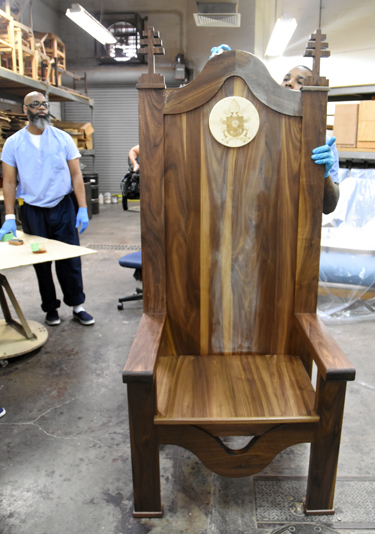 The chair to be used by Pope Francis when he visits the Curran-Fromhold Correctional Facility in Northeast Philadelphia is in its final stages of completion. The chair, constructed and carved from walnut, is taking shape after four weeks of work by Philadelphia Prison System staff and inmates.
Once the finishing work is done, the chair will be upholstered and ready for visit by the pope on Sunday morning (11 a.m.), Sept. 27.
(See a related story: Jailhouse is ready to rock for Pope Francis)
"We are delighted and grateful that our partners at the Philadelphia Prison System have taken it upon themselves to devote their time and energy into crafting this beautiful chair that will certainly be a welcome present for Pope Francis as he meets with inmates and their families," said Donna Crilley Farrell, executive director of the World Meeting of Families.
The project is being done through PHILACOR, an umbrella program that oversees 10 industry shops operating throughout the Philadelphia Prison System. Founded in 1933, PHILACOR's mission is to provide real-life work and skills to help inmates prepare for employment after their release.
Eighteen inmates chosen for their good behavior, reliability and work ethic are employed by the carpentry shop. They produce 70 finished pieces of furniture each month.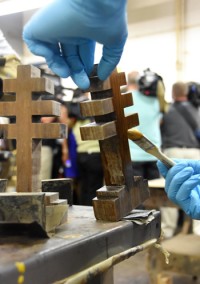 Louis Giorla, commissioner of the Philadelphia Prison System, said anticipation of the papal visit has raised spirits and created a joyful atmosphere among the staff and inmates at Curran-Fromhold.
"I am also grateful that the Holy Father asked to include the families of inmates here in his visit," Giorla said. "Families are often the collateral damage of incarceration and his request to include these families shows his deep understanding of this dynamic. I know it will mean so much to so many."