Posted April 11, 2016
St. Charles Borromeo Seminary hosted a concert Saturday, April 9 led by the seminary's director of sacred music and Wanamaker organist, Rudolph Lucente. Joining him for a program of classical and sacred music was the seminary's artist in residence and Philadelphia Orchestra organist Michael Stairs, along with organist Colin Howland and trumpeter Brian Kuszyk. Also performing were vocalists Amanda Frederick, Kaitlyn Tierney, Toffer Mihalka and John Frederick.
All funds raised through the concert will support the seminary's Spirituality Year Program. As part of the seminary's priestly formation program, the year ordinarily follows a seminarian's college graduation and offers intensive spiritual preparation and direction for the development of a rich internal life of prayer. (Photos by Bob Kelly)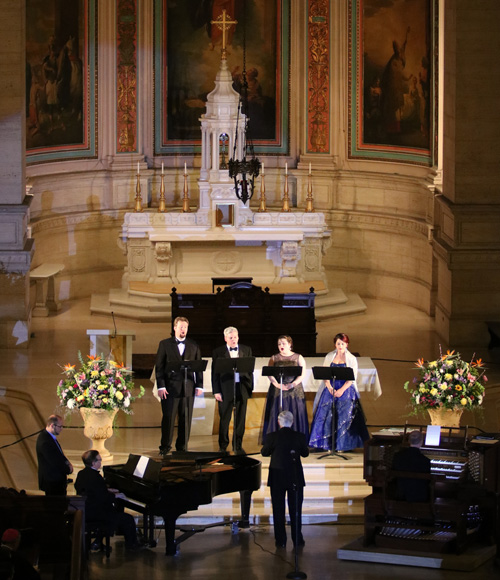 Win free tickets, help support CatholicPhilly.com
CatholicPhilly.com often partners with our region's top cultural venues. During this two-week period, you can benefit by our association with The Franklin Institute in Philadelphia.
Make a donation of any amount during this period and you will receive two general admission tickets to Philadelphia's premier educational museum -- that's a $60 value.
Use our secure credit card form by clicking the link below. That will enable us to contact you so we can send the tickets, which are valid to September 2018.
Your donation helps us to provide high-quality coverage of the local Catholic communities we primarily serve, while also distributing national and world news of interest to Catholics, plus the orthodox teachings of the Catholic faith. Your gift gift of $40, $50, $100, or more will strengthen the fabric of our entire Catholic community.
Make your donation by credit card here: