By John Knebels • Posted November 6, 2015
Minutes before a penalty kick session that would decide the Catholic League boys' soccer championship, a debate began.
After an entire regular season, then playoff games, then a scoreless regulation period and subsequent overtime – 110 minutes in total – would it really be fair to decide a winner simply based on individual penalty kicks, during which a disadvantaged goalie would basically have to guess correctly as to which direction to dive in order to keep his team alive?
If the informal poll had been chronicled and established as a litmus test, approximately 80 percent would have been against determining the winner in such a manner.
Regardless, the penalty kicks ensued, and by virtue of Roman Catholic outscoring Father Judge by 4-2, the Cahillites were crowned champs Nov. 1 in front of a huge crowd at Archbishop Ryan High School in Northeast Philadelphia.
(See a photo gallery from the game here.)
"Beyond amazing," said Roman coach Ray DeStephanis. "Seeing so many people here wearing purple … just amazing."
DeStephanis described the championship-clinching goal by senior Stefano Aiello-Pang as "storybook," and it would be difficult to argue with him.
Incredibly, Aiello-Pang was playing in his first game of the season. A serious knee injury had prevented him from being medically allowed to play. Finally, right before the championship, he received word that he was healthy enough to join his pals.
Then he went out and scored the game-winning tally.
Storybook indeed.
"You can never give up," Aiello-Pang said. "It's not easy sometimes, but if you keep working, good things happen."
Roman's penalty kick success was made possible by exceptional goaltending by senior Mark Tobin and a staunch defense. The combination handed Father Judge its first loss of the season after 19 victories.
It was obviously a difficult pill to swallow for the Crusaders, whose season came to an abrupt end since Roman had earned the right to represent Class AAAA District 12 against Northeast High School on Nov. 5. Roman lost the game, 2-1, and finished the year with a 16-2-2 record.
"We knew what we were up against," said Tobin, who made several sparkling saves. "Father Judge is a great team. Playing against a team like that is a challenge, but it's great soccer."
***
John Knebels can be reached at jknebels@gmail.com.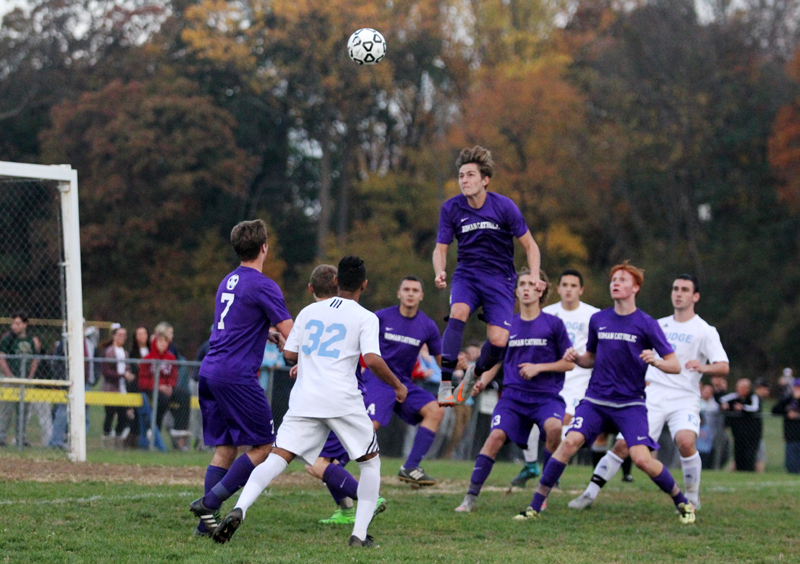 Win free tickets, help support CatholicPhilly.com
CatholicPhilly.com often partners with our region's top cultural venues. During this two-week period, you can benefit by our association with The Franklin Institute in Philadelphia.
Make a donation of any amount during this period and you will receive two general admission tickets to Philadelphia's premier educational museum -- that's a $60 value.
Use our secure credit card form by clicking the link below. That will enable us to contact you so we can send the tickets, which are valid to September 2018.
Your donation helps us to provide high-quality coverage of the local Catholic communities we primarily serve, while also distributing national and world news of interest to Catholics, plus the orthodox teachings of the Catholic faith. Your gift gift of $40, $50, $100, or more will strengthen the fabric of our entire Catholic community.
Make your donation by credit card here: